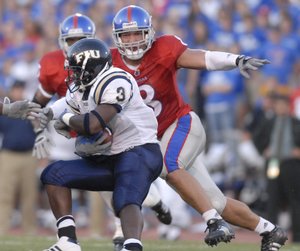 Recruiting is so inexact, so unpredictable and so unapologetic, it can sting like an oversized wasp sometimes.
Kansas University linebacker Joe Mortensen was almost that tragic case of a solid football prospect - and equally good person - who completely fell through the cracks. And, right or wrong, almost all of his anger toward his recruiting experience is aimed directly at the Nebraska Cornhuskers.
"Oh yeah," best friend Mike Rivera said. "Every year, he especially looks forward to this game because of that. He always tells me the story about how they did that to him."
The always-intense Mortensen will be more jacked than normal Saturday, when the Jayhawks and Huskers square off at 11:30 a.m. at Memorial Stadium.
That's the way it has been every year for Nebraska week.
By all accounts, Mortensen loves being at KU. His proactive approach to recruiting made it happen, and his determination made it work once he got here.
But the chip has yet to leave his shoulder. Mortensen was a Nebraska recruit who won MVP honors at a summer camp in Lincoln, Neb., before his senior year at Clayton Valley (Calif.) High. He returned home from Nebraska with an oral scholarship offer from former NU coach Frank Solich.
"Joe just came back ecstatic," said Herc Pardi, Mortensen's coach at Clayton Valley High. "I've never seen him happier. He worked extremely hard to get noticed."
Mortensen, who was not made available for comment this week, continued to weigh his options. Schools like Southern California and UCLA started to show interest. Local schools like San Jose State and Fresno State put offers on the table.
All the while, Mortensen took his time while eyeing Nebraska as his probable future home. That's before the bomb was dropped: On Nov. 29, 2003, Nebraska fired Solich despite a 9-3 record.
A prolonged, frustrating coaching search soon followed for the Huskers, while Mortensen continued to wait. Finally, on January 9, 2004 - less than a month before signing day - the Huskers hired Bill Callahan as their new coach.
With any coaching change, recruiting gets dealt a curveball. Prospects are re-evaluated, and scholarships are re-considered.
Somewhere in this process, Mortensen got lost in the shuffle.
"I wrote a letter. I sent a fax. I did a number of things," Pardi said. "(Callahan) didn't return a call."
Nebraska's staff did just enough to, in Mortensen's eyes, keep him hanging on. According to the Rivals.com archives, Mortensen's mother told the recruiting service in mid-January that Nebraska asked Mortensen to consider coming to Lincoln for an official visit. A follow-up call, though, never came. Mortensen never visited.
On Jan. 28, 2004 - eight days before signing day - Mortensen told Rivals he received a call from then-Nebraska assistant Scott Downing, who asked him to sit tight while they considered whom to offer their final scholarships to.
By Feb. 1 - three days before signing day - Mortensen still hadn't heard from Nebraska. He started to consider other options, but by then most recruiting classes had filled up, and Mortensen was in no-man's land, angry and hurt.
"That was very disappointing," Pardi said. "I've been involved in high schools a total of over 30 years. It was the most disappointing moment for a player that I had ever experienced."
Meanwhile, KU signed an incomplete, 18-person class on Feb. 4, 2004. At the press conference to announce the signings, KU coach Mark Mangino declared that a few scholarships remained and that recruiting for the 2004 class would continue.
One of those vacant scholarships was the result of Miami linebacker Brouce Mompremier, who committed to Kansas but instead signed with South Florida.
Mortensen soon caught word of KU's ongoing search and went to the Internet to read about Mompremier's change of heart. He immediately contacted KU's coaches, and the courtship soon started.
"Joe looked good on tape," KU coach Mark Mangino said. "He is a tough kid, played hard. We had some other people that we were recruiting. (We) got tired of waiting, and Joe was available, and he wanted to come."
Mortensen signed on Feb. 14, 2004 - 10 days after signing day gobbled up most of the scholarships across the country. He admitted at the time that "it was pretty scary," but he was glad he was able to get a chance to play Big 12 Conference football - partially because of an annual game against Nebraska.
"I was really (mad) when that happened," Mortensen said in 2004. "We're playing them this year, and you better believe I'll be ready for that game."
Mortensen, now KU's starting middle linebacker, leads the team with 73 tackles (11 for a loss) heading into Saturday's game. Back at Clayton Valley High, Mortensen's story is an inspiration that Pardi preaches to his players. Newspaper clippings of Mortensen are taped to the walls of the weight room. KU's nationally televised games have been a hit back in California.
"When one door or two closed, this door opened up," Pardi said, "and Joe just fully took advantage."
Mangino, for one, is glad for how the ball bounced nearly four years ago. Out of the passed-over cracks, KU ended up digging up a hard-hitter who has been key to the Jayhawks' 8-0 start in 2007.
"When he came in, we thought he was kind of an engaging guy, kind of a hard-nosed guy that we're looking for," Mangino said. "It's history from there."
More like this story on KUsports.com