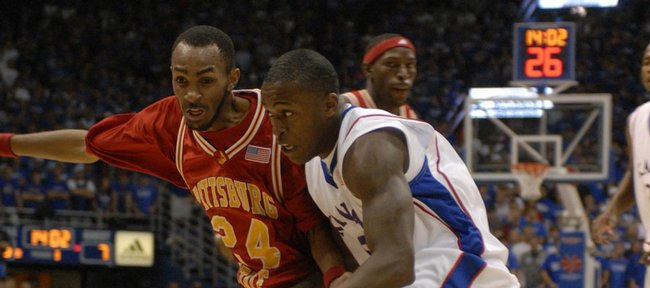 Rodrick Stewart stopped in his tracks while exiting Kansas University's basketball interview room to thoughtfully ponder one final question.
That is: "Can you remember the last time you scored in double figures in a college game?"
Tilting his head back for a second, the 6-foot-4, 200-pound senior from Seattle came up with an answer:
"Man : what game was it? I think it was in Washington : against my best friend, Nate Robinson," said Stewart, whose 11 points, four rebounds and three steals in 17 minutes helped the Jayhawks to a 94-59 exhibition victory over Pittsburg State on Thursday night at Allen Fieldhouse.
"To this day, he is still my best friend," Stewart added with a grin.
Amazingly, it was midway through Stewart's freshman year at the University of Southern California - way back in 2003-04 - when he scored 14 points in a Pac-10 road game at U of W.
On Thursday, his nine of 11 free throws and one bucket in three tries helped him enter double figures for the first time on Mount Oread.
His previous high was eight points last season in a regular-season game against Dartmouth.
Did he think it'd take him that long to reach double-digit land again?
"Nah, to be honest I didn't think it'd take that long," Stewart said. "But what I've gone through was worth it. It humbled me. I finally decided if I wanted to play, it was up to me. I had to do the work, do what it takes to get on the court and help my teammates win games."
Stewart - he has played sparingly at KU since transferring from USC first semester of what would have been his sophomore season - has come so far, KU coach Bill Self on Thursday said, "He probably deserves to start, but I like him in the role he's in, coming off (the bench) and giving us energy, changing the pace of the game."
Stewart hit six of eight free throws - his teammates just eight of 16 the first half - as the Jayhawks rolled to a 55-29 halftime lead. Stewart's successful free-throwing wasn't contagious. His teammates converted 10 of 22.
"It was one of those nights we didn't make free throws. I won't say it's conditioning, but maybe that's part of it," Stewart said of players not having their early-season wind. "We'll make them the next time out."
Stewart didn't have a perfect outing. At one point, he went in for a dunk, but wasn't able to convert. Instead he was hacked and awarded two points off a goal-tending call. He also made the free throw.
"I should have dunked on him. It happens," Stewart said.
He's hoping to put some down this year, like his favorite former KU player, Keith Langford.
"It's why I wear No. 5, because that's what he wore," Stewart said. "I love the way he plays. It's kind of my game, anyway, going to the basket. I'm still a Keith Langford fan to this day."
Might he be even a better defender than Langford?
"I love playing defense," Stewart said. "I always have loved defense. I get high on locking a man up. My strength is defense. At practice I go against guys like Mario (Chalmers, 14 points, four of five threes Thursday) and Sherron (Collins, 18 points, three of four threes), but I've also guarded Darnell (power forward Jackson, six points, three boards). It makes me a physical player."
Chalmers says to look for Stewart on the court a lot this season, even when Brandon Rush returns.
"Yes, he can score. I always thought he could score," Chalmers said. "He scored a lot in high school (in Seattle). He's going to help us this year."
More like this story on KUsports.com