Brandon Rush, who spent the weekend in Dallas "on vacation, chillin' with my best friend, getting the stress off my back," returned to Lawrence in time to attend class and work out Monday.
The Kansas University sophomore received a warm welcome from his teammates four days after entering his name in the 2007 NBA Draft.
The reaction of KU's student body, however, wasn't nearly as favorable as that of Rush's traveling companion - UMKC junior guard Tim Blackwell.
"The reaction of the students has been pretty bad. They are saying, 'It's a bad decision. How are you going to leave us like that?'" Rush said Monday afternoon at Allen Fieldhouse.
"You have to deal with it (criticism), 'cause knowing I was coming here as a freshman, they should have known I was going to be a one- or two-year guy. I don't see why they look for me to stay another year."
Of course, there remains a slight possibility Rush would return to KU for a third season.
The 6-foot-6 Kansas Citian said he won't hire an agent until after heading to the Orlando, Fla., draft camp May 29-June 1, as well as various NBA cities for weeks of 1-on-1 workouts leading to the June 28 draft.
"After the workouts, if they guarantee I am a first-round pick, I'll have an agent," said Rush, who must withdraw from the draft by June 18 if he wants to return to KU. "It'd definitely be after the workouts. It's up in the air because I've got a lot of things ahead of me.
"Yes," he added, asked if his aim is to leave. "Everybody wants to go to the NBA."
Rush - who hears he could be picked anywhere between "15 to 35" (there are 30 picks in round one) - must pay his own way to camps. Negotiating with an agent would render him ineligible for next season.
"They will want to get to me. I have been avoiding them all year long. I can avoid them another two months," he said of agents.
Rush said he did not consult with his brother, former Missouri and ex-NBA player Kareem, about last week's decision.
"I'm 21 years old," Rush said. "I've talked to Kareem twice since I made my decision. He feels I am a lock for the first round."
Rush insisted he hadn't made up his mind to enter the draft until the end of a two-hour meeting with KU coach Bill Self last Wednesday in Self's office.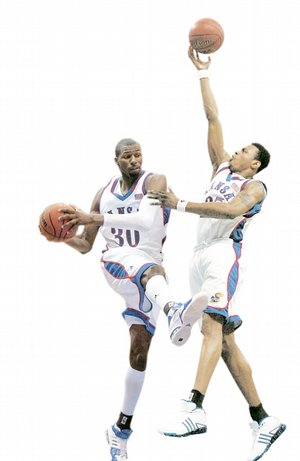 "We sat down. He gave me some information. I made the decision right there," Rush said.
He admitted his performance during his sophomore season - which included his emergence as a defensive stopper - had him leaning toward entering the draft for months.
"I had a gut feeling I'd test it out like I did my senior year (when he withdrew the day before the deadline)," he said, adding, "I knew I'd do it all along when I saw the players that came out this year and I played against some of them. It'll be good competition going head to head with some of those guys in workouts."
Rush says he has to be "in top shape" for the individual workouts which - if they go well - would cement his status as a first-round pick.
"I'll work out with my brother (Kareem, likely in Los Angeles). I'll go there or somewhere else like that. Those workouts are tough. I remember (in high school) the pre-draft camp was fun, playing pickup games, 5-on-5 with the top players. I'm looking forward to it."
Rush, who has taken 12 hours of coursework this semester, is intent on passing his classes so KU won't be hurt on the NCAA's APR scale if he leaves.
"I wanted to stay in Dallas a couple more days," he said. "I was tempted to. But I have some schoolwork to take care of here, things to make up. I'm trying to finish up right."
Self obviously is happy Rush has returned from Dallas to fulfill academic obligations. Yet the coach, who hadn't spoken with Rush since 7:30 p.m. last Thursday, on Monday expressed displeasure with Rush during a 30-minute meeting with his team's leading scorer.
"Coach was a little disappointed how I didn't tell everybody. We had a 30-minute conversation. Next time I'll be up front with him. I'm sorry about that," he said of only informing his hometown paper Thursday night. "It (announcement) was pre-arranged by somebody. It was all kind of set up."
As far as not sticking around Friday to give a statement to Self, Rush said: "I couldn't talk to him Friday. I heard he was up there yelling. I didn't want to deal with it when I was going on vacation, try to get everything off my back until I got back here today.
"My family has been behind me 100 percent. My teammates are behind me 100 percent and the coaches. It's all I'm worried about now."
More like this story on KUsports.com