With his Kansas University baseball team playing host to Oklahoma State - the Big 12 Conference's offensive juggernaut - third baseman Robby Price said his team had to score more than 10 runs.
On Friday night, the Jayhawks would have needed 15.
The explosive Cowboys, the conference leaders in batting average, runs, home runs and RBIs, collected 17 hits to pound the Jayhawks, 14-4, at Hoglund Ballpark.
"They're definitely great hitters," Price said. "As position players, we've got to match that every inning and put up more runs."
OSU leadoff hitter Keanon Simon, in particular, inflicted damage, going 5-for-6 to up his batting average to .398.
"He's one of the best college baseball players in America," KU coach Ritch Price said. "He fights pitches off. He caps balls in the outfield, and then he'll smoke the ball in the corner."
Oklahoma State (18-5 overall, 1-0 Big 12) demonstrated its offensive proficiency early, with the first two hitters of the game, Simon and Ty Wright, reaching base to take an eventual 2-0 lead. The Cowboys extended the lead to 3-1 during the second inning, but Kansas starting pitcher Nick Czyz (2-4) settled down after that. Czyz held the Cowboys scoreless until Ritch Price removed him in the fifth inning.
"Nick did a good job," Robby Price said. "He gave us a chance. He did all he could."
Freshman Robby Price, the coach's son and Free State High graduate, ignited the Jayhawks' rally in the fifth inning with a three-run homer to give KU a 4-3 lead. That blast off the scoreboard in right field was Price's first career home run.
"I was just trying put the ball in play," he said. "(Oliver Odle) left the ball a little bit up, and I just put a good swing on it."
Ranked 19th in the USA Today/ESPN poll, Oklahoma State opened the floodgates during the next inning. Price removed Czyz, and Cowboys third baseman Matt Mangini hit a three-run home run off reliever Andres Esquibel.
The Cowboys scored off a Simon single in the seventh inning. First baseman Rebel Ridling struck for a two-run home run in the eighth, and right fielder Corey Brown struck a two-run blast during the ninth.
Oklahoma State raked nine runs off relievers Esquibel and Matt Lane, but Ritch Price had no reservations about taking Czyz out.
"He was out of gas," the KU coach said. "He battled to get as far as he did."
On the offensive side, Kansas (14-13, 1-3) scored only four runs, but Ritch Price complimented his players' aggressive style.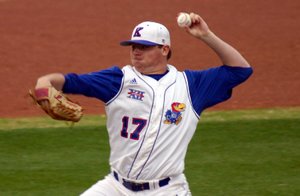 "I really like the way we're swinging the bats," he said. "I was pleased with how many hard-hit balls we hit right on the line that were caught."
The Jayhawks hope those hard swings translate to more runs as the second game of the three-game series resumes today at 1p.m.
"If we expect our pitchers to go out and hold them to two or three runs, it's not going to happen," Ritch Price said. "We're going to have score as many runs as it to takes to win and match them offensively."
More like this story on KUsports.com