Ohio State senior Ron Lewis knew better than to look at the scoreboard. One look at the Tennessee Volunteers told him all he needed to know.
Although the top-seeded Buckeyes trailed by 17 and freshman sensation Greg Oden was in deep foul trouble, Lewis could tell his team had the Vols right where they wanted them.
"Their body language was like they already had the game won," Lewis said.
Lewis and Mike Conley shook Tennessee out of it by tying the game midway through the half, then the energized Buckeyes outplayed the Volunteers down the stretch for an 85-84 victory Thursday night in the semifinals of the NCAA South Regional.
"In this tournament, the two most important words are `survive' and `advance,' and we've been very, very fortunate the last couple of games to do those things," said Buckeyes coach Thad Matta, whose club needed a furious final minute of regulation then an overtime to get past Xavier in the second round.
Lewis, who hit the big 3-pointer in the Xavier rally, scored 18 of his 25 points in the second half. Conley scored nine of his 17 from the foul line _ including the winner with 6.5 seconds left.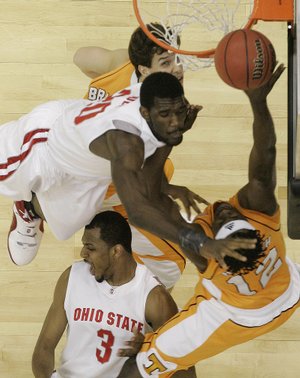 Yet Conley missed a second shot, giving Tennessee (24-11) one last chance. Ramar Smith grabbed the rebound and went all the way to the rim with Conley defending him. They went up together and time expired with the potential winning shot in the air.
Oden, though, was there to swat it into the Volunteers' cheerleaders, then drop back to earth himself with his biggest smile of the night knowing the Buckeyes (33-3) had held on for their 20th straight win. Smith, meanwhile, planted himself facedown in front of the Tennessee bench, knowing what a great opportunity his team had blown.
"We never got overconfident," Vols forward Dane Bradshaw said. "Just, defensively, we didn't have that sense of urgency. That's what makes it worse."
The Buckeyes kept alive their longest run in the tournament since reaching the Final Four in 1999. They can get there again with a victory Saturday against second-seeded Memphis, a 65-64 winner over Texas A&M; earlier Thursday.
For the Volunteers, this was a second straight heartbreaking loss to this club, one of the nation's best. The first was a 68-66 defeat in Columbus, Ohio, in mid-January when Oden had the first breakout game of his career.
"We played about as well in the first half, I think, as we can play," Tennessee coach Bruce Pearl said. "We're terribly disappointed. We've proven we can beat some of the best teams in the country. We've also proven we can come close to beating some of the best teams in the country."
The 7-foot, 270-pound Oden scored only nine points this time, matching his lowest in 15 games, and set a season-low with three rebounds. He never fouled out, though, needing quick substitutions in the final few minutes to avoid getting disqualified.
After the game, Oden needed stitches in his chin because of a collision during the second half. He played only nine minutes in each half, a season-low total of 18.
Ohio St-Tennessee
"It was part of the game plan to get him in foul trouble," Bradshaw said. "We just really didn't do a good job from the get-go (in the second half)."
Chris Lofton, the SEC player of the year, scored 24 points to lead Tennessee. He was 6-of-13 on 3-pointers, including one that tied it at 82 only seconds after Lewis had put Ohio State ahead with a 3 of his own.
Smith scored 15 points and JaJuan Smith added 14 points and eight rebounds. Childress scored 12, hitting 4-of-5 behind the arc.
Tennessee led 49-29 in the final minute of the first half. Ohio State got a little back with a three-point play from David Lighty in the final second before intermission.
Then the Buckeyes opened the second half with a 16-5 spurt, keyed by six free throws from Conley. Fittingly, his pair of foul shots tied it at 64.
"We knew if we took our shots, played our system, we'd be fine," Conley said. "There was a lot of time."
Things went back and forth from there, with 6-foot-9 Ryan Childress hitting two 3s for Tennessee and Conley making a three-point play but also missing a pair of free throws.
Ohio State tied it at 79 with 2:44 left on a 3-pointer by Lighty, just his eighth of the season. It was a biggie because the Buckeyes never trailed again.
Tennessee avoided Oden from the start by shooting 3s over him, taking a slim lead. Then he got his second foul with 10:48 to go in the half and the Vols began attacking inside and out.
With a 13-2 run, Tennessee went up 32-18, prompting Matta to rub his brow and put back in Oden. Just 64 seconds later, Oden was back beside his coach in a black folding chair, stuck with three fouls. The Volunteers soon got rolling again.
They just couldn't make it last.
"We knew they were going to make runs," Lofton said. "We didn't have the urgency on defense in the second half."
Pearl came worried how his team would match up with Ohio State, especially since the Buckeyes already had seen their frenetic full-court press in the first matchup. They rarely used it and got only eight turnovers, down from 20 last time.
Although Pearl's fears came true and the Vols couldn't matchup, Tennessee fans can be optimistic their second-year coach can parlay his strategies and enthusiasm into more long NCAA tournament runs.
For now, though, it's Ohio State's turn.
"They've obviously got a grit," Pearl said, "they've got a resolve."
More like this story on KUsports.com