The McGuinness household is torn over whom to cheer for tonight during the NCAA Tournament West Regional semifinal.
The parents, William and Mary, earned their bachelor's and master's degrees at Southern Illinois University but have worked at Kansas University for several years.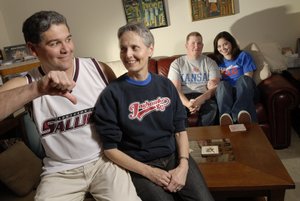 "I love my alma mater with all my heart but I definitely am a Jayhawk," said Mary McGuinness, associate director of the Applied English Center. She begin working at KU in 1990.
For their two oldest children, Frank, 28, and Margaret, 26, the game brings with it a sense of childhood nostalgia and stirs a friendly rivalry among the family. Both were raised in Chicago and moved to Lawrence when they were 11 and 9, respectively, after William was offered a job with Farmland Industries. Seven years ago, he became a research assistant at KU's Higuchi Biosciences Center.
"There's a little part of my heart that's with SIU," Margaret said. "I'm a tiny bit torn because I think it would be really exciting to see the Salukis succeed."
She said the game represents the conflict of a personal attachment to her family's roots in Illinois and their home in Kansas.
"I'll probably be one of the few that cheers for all the points made," she said.
Her brother said it was an interesting match-up he never would have expected. He said he's watched about half of the SIU games this season and hasn't missed a KU game.
"We have jerseys from both SIU and KU. But in the back of all our minds I think we're rooting for KU," Frank said.
The youngest daughter, Eilish, is rooting for No. 1-seeded KU, over No. 4-seeded SIU. The KU sophomore is obsessed, she said.
"My boyfriend and I always watch the games together and we're screaming at KU like they can hear," she said.
Seeing both teams in the Sweet 16 is a win-win situation for William McGuinness.
"I'm very happy that one of the teams I like best is going to be in the final eight," he said. "I've been at KU so long now, long enough that I really love KU, and I would like probably to see KU win, but I won't be sad either way, but I will prefer KU to win."
Not only would he prefer it, he's predicting a 10-point victory margin by the Jayhawks.
"Both are very good defensive teams so I don't think it will be a very high-scoring game," he said, guessing KU would score in the 50s or 60s.
Frank expects a higher scoring game: KU 80-SIU 74.
The game begins at 6:10 p.m. today in San Jose, Calif.
- Journal-World intern Erin Castaneda can be reached at 832-7261.
More like this story on KUsports.com