Kansas University sophomores Brandon Rush and Julian Wright, the Big 12's co-Preseason Players of the Year, have been tapped first-team all conference in a vote of league coaches.
Joining the co-preseason players of the year on the first team: Oklahoma State senior forward Mario Boggan, Texas Tech senior guard Jarrius Jackson, Texas A&M senior guard Acie Law and Texas freshman forward Kevin Durant.
Six players were named to the first team because of a tie in the voting. The league on Sunday did not indicate which players were deadlocked, but did report Law and Durant as unanimous picks.
KU sophomore guard Mario Chalmers was selected third-team all-league and was named co-defensive player of the year with Oklahoma State's Marcus Dove.
KU junior Russell Robinson joined Chalmers on the league's all-defensive team. Chalmers has a league-leading 79 steals. Robinson has 56.
Jayhawk freshmen Darrell Arthur and Sherron Collins earned honorable mention all-league and were named to the all-rookie squad. Collins was a unanimous pick to that squad.
"I really was pleased when I learned of the results," KU coach Bill Self said Sunday night. "Sometimes on the all-league team, scoring average plays such a huge role. There are some guys on our team, primarily Julian (12.0 ppg) and Brandon (13.7) who have not scored that many but are premier players.
"Mario was deserving to be on one of the teams, and I thought Sherron and 'Shady' (Arthur) deserved at least honorable mention. Russell was all defensive pick. You can't get them all on there," he added of his entire roster.
"I was happy to see six named and a seventh first-team all-academic in Sasha (Kaun, last week). You could put Darnell (Jackson) on the all-bench team if there's one of those, too."
Durant, who scored 32 points in KU's 90-86 Big 12 title-clinching victory over Texas on Saturday in Allen Fieldhouse, was a unanimous pick for the league's Player of the Year. He's the first freshman in league history to win the honor.
Missouri junior Stefhon Hannah was unanimous pick for newcomer of the year. Kansas State senior Cartier Martin earned the league's inaugural Sixth Man Award. Texas A&M's Billy Gillispie was named Coach of the Year.
The All-Big 12 awards are selected by the league's coaches, who are not allowed to vote for their own players.
"The biggest thing that allows guys to achieve individual honors is for the team to be really good," Self said. "When the team is really good (27-4, 14-2 in league), good guys have a chance. If the team is not good, people (voters) say, he mustn't have been that good or the team would have done better."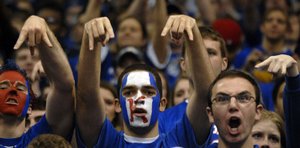 ¢Congrats, coach: Self received a lot of phone calls Saturday congratulating him on his squad snaring the league title. Not so many on Sunday because his cell phone was on the fritz.
"The phone's been dead all day. With the game played in the morning, I got a lot last night," he said. "There were a lot of proud Kansas fans out there. I don't want to make too much of yesterday," he continued. "We've got to focus in now on the next part of our season."
¢Youth is served: KU's five leading scorers are either freshmen or sophomores for the second straight season. No other teams in KU history have had all freshmen and sophs as top five point producers.
The young Jayhawks tied for the league title last year and won it outright this season.
"Dare say I don't really think we are still young, but it still amazes me how each game how different guys step up and have been offensive forces," Self said. "In league play to average 80 points a game (80.8) is not easy to do. I'm certainly happy with the guys' productivity in that. Whether the top five scorers are freshmen or sophomores ... we can't take for granted the contributions of Russell (Robinson), Darnell (Jackson) and Sasha (Kaun, all juniors) and our other guys as well."
¢Warren loved visit: Willie Warren, a 6-foot-2 junior from North Crowley High in suburban Dallas said KU, Arkansas and Texas were his three leaders following his unofficial trip to KU for Saturday's game.
"I'm in love with Kansas," he told rivals.com. "The environment was crazy. It was everything I thought it would be."
Warren, who averaged 26 points a game this past season, also is considering Baylor, Cincinnati, Florida, LSU, Texas A&M, Oklahoma State and others.
¢Self helped get call right: The officials almost awarded Texas free throws instead of an out of bounds after Chalmers was tooted for a player control foul late in Saturday's game. Chalmers was guilty of pushing a Longhorn on a KU in-bounds pass. An animated Self needed to remind officials of the rule (no free throws awarded on a player-control foul), and the ball was taken out of bounds. As it turned out, A.J. Abrams hit a three from the corner off the ensuing in bounds play.