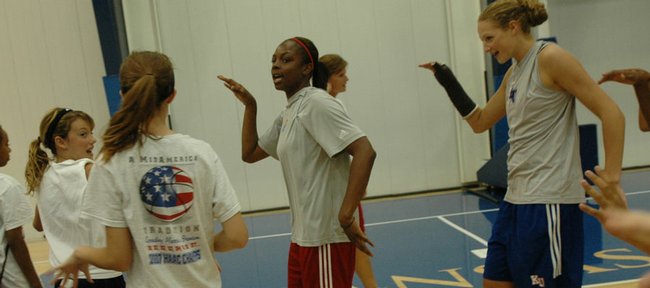 Kansas University women's basketball coach Bonnie Henrickson issued an edict to Danielle McCray: Weigh 170 pounds by Aug. 1, or else.
What does "or else" mean?
"I don't want to know," McCray said.
After tipping the scales at 186 during her freshman season, the sophomore now weighs 172, and veins noticeably protrude from her biceps. Losing those pounds will help the 5-foot-11 McCray transition to a more perimeter-oriented role at small forward or shooting guard.
"That's what we recruited her for," Henrickson said.
She played in the post during high school at Olathe East, but manned the 3 position during AAU action. Henrickson wanted to use her there last year, but the squad had backcourt depth and lacked frontcourt muscle.
"She was too good to just be sitting there," Henrickson said.
To jettison the weight, McCray has adopted a new diet monitored by sports nutritionist Randy Bird. The regimen does not eliminate any foods, but calls for everything in moderation - including her vice of candy - as part of her 2,100-calorie-a-day diet.
The sophomore also has amped up her conditioning to become more explosive. During running drills she now keeps pace with the guards.
"My summer workouts are going really good," McCray said. "I feel like a totally different person just shaving all the pounds off."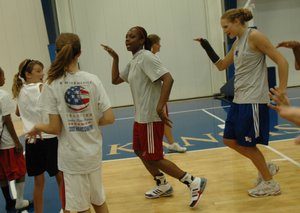 After going through a morning exercise routine, she often sweats it out again at noon, racing associate director of strength and conditioning Andrea Hudy during a 30-minute session on the elliptical trainer.
"She normally wins," McCray said. "But it's by a little bit."
While emphasizing that cardiovascular work, McCray wants to maintain her impressive overall strength, which allows her to post up smaller players on the perimeter. McCray has bench-pressed 200 pounds. That total bests Kevin Durant, last year's Associated Press Men's Player of the Year, who could not hoist 185 during a pre-NBA Draft workout.
"I never knew that," she said. "That is kind of cool."
This summer serves as a pleasant change from this time last year, when pain in her shins restricted her. She underwent compartment surgery on Aug. 9, and the subsequent recuperation process slowed her conditioning prior to the season. McCray not only can go full bore this June, but also said her lower legs feel better.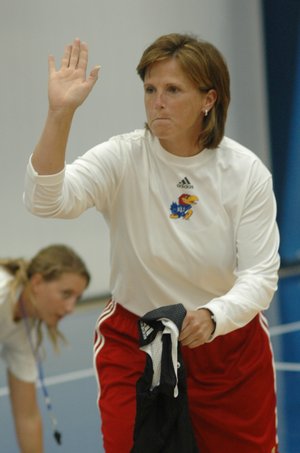 "That has helped a lot," she said. "It bothered me all through high school."
As part of her new role at guard, McCray also focuses on improving her ballhandling, shooting and defense.
"She's got to be able to guard somebody," Henrickson said.
If McCray addresses those areas, she can become a major factor in the Big 12 Conference. She averaged 10.5 points and 4.8 rebounds, including her breakout 25-point, 10-rebound performance during KU's double-overtime victory against Kansas State. After poor conditioning and inconsistent play dogged her early in the 2006-7 season, she started the last seven games.
Her star power was demonstrated Sunday night when a participant in the Bonnie Henrickson camp asked her to autograph a game picture.
McCray has enjoyed interacting with the girls all week long.
"It's really fun," McCray said, "just being around them and knowing that in some ways they're looking up to us."
More like this story on KUsports.com