When Kelly Kohn's Kansas University teammates watch her go through basketball drills while wearing thick goggles and gloves, they do a double take - or guffaw.
"Everybody makes fun of me," Kohn said Monday during the Bonnie Henrickson Camp. "It looks a little funny."
The strange ensemble, however, helps the sophomore guard improve her skills. The slippery, untackified garden-like gloves lack much grip, forcing her to hone her ball-handling, and the goggles act like blinders, preventing her from looking down at the ball while dribbling.
Kohn, who averaged three assists and a 1.83 assist-to-turnover ratio last year, also wants to become a better passer, more adept with her left hand and stronger defensively.
Despite starting every game last year and leading the team in minutes played, she says she wants to be more of a director on the court to fill the void of the departed senior guards, Shaquina Mosley and Sharita Smith.
"I really want to take on a leadership role," Kohn said. "I'm gonna have to face that role a lot more."
Kohn needs the most improvement in her shooting. Despite ranking fourth among Big 12 freshman with 9.8 points per game, she shot 34.2 percent. So the 5-foot-9 guard hoists 600 shots-a-day.
"I'm a confident shooter," she said. "I know my shooting is going to come."
Kohn is part of a six-person sophomore class. Last year Henrickson, the KU coach, joked that if she saw one of them on campus, she saw them all.
"It was definitely a tight-knit pack that came in here," Kohn said. "We were just like a circle."
That posse has become more comfortable heading into its second year. Kohn called the difference between this summer and last summer, "night and day."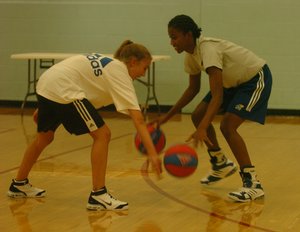 Sade Morris, a 5-11 sophomore forward, said she had adjusted to the pace of the game.
"It's running all the time," Morris said. "Oh my goodness, it's totally different. You could always get away in high school with kind of jogging, running a little bit. The college game you've got to run up and down the court."
Kohn said it felt like new things were thrown at her all time. Now she manages her time much better.
"I'm not a freshman anymore," she exclaimed. "It's a whole different experience."
Last year's 11-20 mark and 4-12 conference record fuels the team.
"We've definitely got to use that as motivation," said Morris, who averaged 6.4 points and 2.6 rebounds. "We're looking to impress people in the Big 12, make it further in the Big 12 and make it to the NCAA Tournament."
The season still is far away, but the Jayhawks will spend part of this week at Henrickson's camp, helping the fifth grade through high school participants with their drills and footwork and providing encouragement. Kohn praised their energy, and Morris complimented their upbeat personality.
"I really enjoy working with the kids," Morris said. "They always have a smile on their face. It puts you in a great mood."
More like this story on KUsports.com