As Sherron Collins sat at midcourt, Kansas University basketball coach Bill Self leaned over to peek at the guard's newest piece of ink.
His just-emblazoned forearm tattoo quotes a passage from Jeremiah 15:15.
"It just basically means, reaching out to God, telling Him to care for me and watch over me," Collins said.
The rising sophomore spent Friday night watching over several Midwestern high school basketball teams during the first day of the inaugural Kansas Basketball Team Camp.
"For a first year, we have a pretty good turnout," Self said. "It's for the high schools in order to get good competition and let them hook up and play against each other and play against people they don't see on a regular basis."
While most students would rather spend Friday night doing something else, Collins, a basketball fanatic, kept score for games taking place in a sweltering Allen Fieldhouse.
"I like young kids with good talent," he said.
In addition to making the USA Basketball team for the Pan American Games in Rio de Janeiro, Brazil, July 13-29, Collins cited a summer goal to keep "his body right." The stocky guard weighs 202 pounds and wants to drop to 195.
To do so, Collins plays pickup basketball, runs four to five miles a day on an elliptical trainer and watches his diet. He does not adhere to a specific food plan, but stays away from greasy foods. Collins and Rodrick Stewart have frequented Quiznos and Subway, he said.
¢ Wright draft watch: Although Julian Wright has declared for the NBA Draft on June 28, Self has not talked directly to his former player in several weeks. The coach, however, has phoned Wright's agent, Rob Pelinka, on a regular basis and talked to Wright's mother, Gina, on Friday.
Self made the call to Gina because Julian tweaked his ankle Monday in a workout with the Boston Celtics, and he wanted to confirm that his former player was in good health.
The coach did not have an inkling of which NBA team would select Wright.
"He's right where he needs to be," Self said. "He's going to get his name called very early."
As far as the ankle sprain, Wright was limping during his workout with the Milwaukee Bucks on Friday.
The Milwaukee Journal-Sentinel reported the 6-foot-8 Wright "showed his versatility with a few nice moves in the paint while also hitting some medium-range jumpers."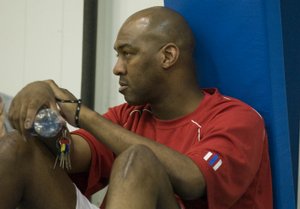 "He's a 3-man (small forward), and you could play him at some 4 (power forward)," Dave Babcock, the Bucks' director of player personnel told the paper. "Maybe you could play him at some 2 (shooting guard)."
Wright took a long break at one point in the workout, and trainer Andre Daniel helped the Chicagoan return to the court.
"He got tired, but he's been out for three days," Babcock said. "It's not a big deal."
Wright has worked out for Milwaukee (No. 6 pick), Boston (5) and Minnesota (7). He has dates scheduled with Charlotte (8) and Sacramento (10) before the draft Thursday.
¢ Shady's rising stardom?: Darrell Arthur, who averaged 9.8 points and 4.7 rebounds as a freshman, could help replace Wright.
"He's going to be very key," Self said. "He's made great strides in becoming a player, and he's only going to continue to get better and better."
Self praised Arthur's raw athletic ability and strength, but said he needed to work on staying out of foul trouble, playing smarter defensively, improving his shot and gaining confidence in his scoring ability.
"Darrell's as highly recruited a young man as we've recruited since we've been here," Self said. "He could be as good a big man as I've coached if he were to stay in school for four years."
Self then let out an all-knowing grin.
"But I don't believe that'll be the case."
¢ Considering KU: Although the Team Camp lacked noteworthy Division I prospects, an assistant coach on the team with high school's marquee player watched the camp.
That coach is Josh Wilson, an assistant at Harvey (La.) Helen Cox High, attended by Greg Monroe, a 6-foot-10, 226-pound forward and Rivals.com's No. 1-ranked player in the 2008 class. Wilson compared Monroe's versatility to Lamar Odom of the Los Angeles Lakers.
"He's really special," Wilson said. "He's just a great kid : He's the type of kid that's good on and off the court."
Although speculation has revolved around Duke, Wilson said Monroe's schools of interest include Kansas, Texas, LSU, North Carolina, USC, Georgetown, Connecticut, Baylor and Florida.
"He's still wide-open," said Wilson before describing the forward's impression of KU. "He knows great basketball. He knows it has a winning tradition."
Wilson, who helped provide instruction during the Bill Self Team Camp, said Monroe likely will take all five official visits. The school that lands Monroe may not have him for long before he bolts to the NBA.
"He'll probably be a one-and-done," Wilson said.
¢ Similar battle scars: Having suffered three ACL surgeries during his NBA career, KU assistant coach Danny Manning can serve as a potential sounding board for Brandon Rush as the junior rehabilitates his reconstructed knee.
"We talked," Manning said. "He'll come up, and he'll just tell me where he's at and how he's doing."
Manning's advice?
"Nothing in particular - just work hard, do what you're supposed to do, get your rest, eat right, work hard and rehab," he said.
More like this story on KUsports.com