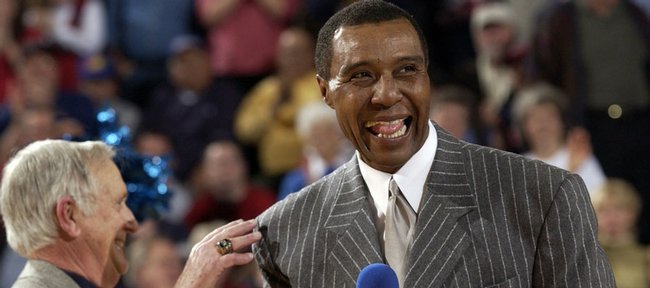 One of the most ballyhooed ballers in Kansas University basketball lore, Jo Jo White still keeps up with the Jayhawks, even though he lives in Boston and works in the Celtics' front office.
"I follow them very closely," White, a KU guard from 1966 to 1969, said, adding that he thought the 2006-07 squad was talented enough to win it all.
"I was a little bit disappointed," the two-time All-American said of the Jayhawks' 68-55 Elite Eight loss to UCLA in March.
White, whose number 15 jersey hangs in the Allen Fieldhouse rafters, said the jury was still out on KU coach Bill Self, even though he has compiled a 105-29 record and led the team to two NCAA regional-final appearances in four seasons.
"Judgment's still out on Bill," White said Monday before playing in the Legends of KU Kansas City Golf Tournament. "I like him as a person. I don't know if he's tough enough on these guys. We've got some outstanding talent, but you've got to be honest, and you've got to be open, and you've got to get on them because you want to get the most out of them."
White, who scored 1,268 points in his three seasons as a Jayhawk, said he hoped Self, whom he called "a great recruiter," would be able to keep the players he brings to KU from heading to the NBA early.
"As soon as you get a team together, your talent is gone," White said of today's college basketball climate. "So if you can't recruit, you can't coach."
Since Self's arrival in Lawrence in 2003, only forward Julian Wright - drafted 13th overall by the New Orleans Hornets in June - has left school early for the NBA.
However, White opined that now was not the time for Wright to go pro.
"Definitely not. I thought he should've stayed in school, but he's a talented individual," White said.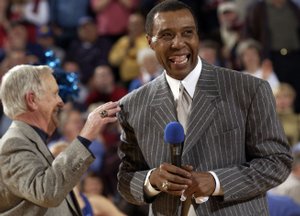 White, Boston Celtics director of special projects and community-relations representative, said his time in an NBA front office has allowed him to see how difficult it can be for ultra-talented college prospects to assimilate at the pro level.
"Once they get (to the NBA), they find out there are some more talents out here," White said, adding that underclassmen that join the NBA have to take a professional approach to succeed.
"Once you get to the pros, everyone at that level is gifted. We have a lot of athletes in the pros, but we have very few professionals," the 1976 NBA Finals MVP for the Celtics said. "Professionalism has nothing to do with college. It has to do with work ethic, how you approach the game, how you carry yourself, how you deal with media. A lot of these young kids, they don't have a clue."
White said, ideally, every college player would stay in school four years and leave with a degree.
"If you throw your education away and you don't make it, what do you have? Absolutely nothing," he said. "You have to prepare yourself for: What if? And you have to do that through education."
A seven-time NBA All-Star, White said many young players are coerced into leaving school early by agents or people around them who can profit from the athlete's success.
"You get to read what the athlete makes, but you never get to read what's being made off the athlete," he explained. "They (people around the athlete) can make money and not win a game."
Bad advice, White said, can lead to a young athlete's demise.
"There's only so many LeBron James's," he said of the wildly successful 22-year-old Cleveland Cavaliers forward, who bypassed college completely. "(College players) have to get that advice coming from their superiors."
A champion with the Celtics twice over, White also was critical of the NBA's rule - which first affected high school seniors last year - that says players must be at least one year past the graduation of their high school class and at least 19 years old by the end of the calendar year in which they enter the draft.
"That one year in school - that's crap," he said, adding that it does players no good to "hide out" in the college ranks for a year.
That rule got Ohio State's Greg Oden and Texas forward Kevin Durant on campus last year before they went pro this spring and were selected first and second overall in the NBA Draft.
Much was made in pro-sports-crazed Boston of the Celtics not landing one of those players via the lottery, but White had a different take on that.
"I wasn't disappointed at all," he said of the Celtics ending up with the No. 5 pick, which they eventually traded along with Wally Szczerbiak and Delonte West to Seattle for Ray Allen and the rights to Glen Davis. "Over the years, we've been successful not relying on luck. So now all of the sudden, everybody's saying we didn't have any luck in the draft."
Despite the franchise's NBA-leading 16 titles, Celtic pride may not be at an all-time high right now - the team was 24-58 in 2006-07. But White, whose No. 10 jersey was retired by the franchise, said things are looking up, thanks in part to another former Jayhawk, Paul Pierce.
A 1998 All-American at Kansas, Pierce is the franchise's centerpiece, and White said the nine-year Celtic veteran still has five good years left in his 230-pound frame. White has been one of Pierce's biggest supporters and highly recommended the KU product to Celtic brass when he entered the 1998 NBA Draft.
"I told our organization he was better than they could imagine because each year he was at KU he got better and better," White recalled, and said that Pierce could lead the storied franchise back to glory.
"He hasn't even scratched the surface of how good he can become," White said. "We have a lot of confidence in Paul, and I think his best games are in front of him."
Although the ups and downs of his Jayhawk and Celtic hoop squads occupy a great deal of his time, White said he also spends a lot of time during the summer months at golf outings, attending to Boston Celtic corporate sponsors and season-ticket holders. But he also gets to watch the team's talent develop and interact with the players.
"My plate is full, and I'm enjoying what I'm doing," he said.
More like this story on KUsports.com