During his 60 years on the air calling Kansas University athletics, sports broadcasting legend Max Falkenstien received his fair share of hardware, especially leading up to his farewell last year.
Friday night, Falkenstien will receive another award as he is named Kansan of the Year by the Native Sons and Daughters of Kansas, which was formed to preserve state history.
"I would have to say that this is probably at the top of the list - to be selected for the whole state of Kansas," said Falkenstien, of Lawrence.
The 89th annual banquet at the Maner Conference Center of the Kansas Expocentre also will include honors for two other Kansans with KU ties.
Richard Bergen, a Salina sculptor who earned a doctorate in art education from KU, will be named Distinguished Kansan of the Year. Polly Bales, of Logan, will receive a Distinguished Service Citation for her work in the state and her devotion to art, music, history, politics and civic organizations.
Bergen designed the bronze sculpture "Ad Astra," the Kansa Indian that sits atop the Statehouse in Topeka.
"The people of Kansas strive to aim high and work hard to build a better present and future. The Indian's aim is to the North Star, symbolic of a stable government," Bergen said.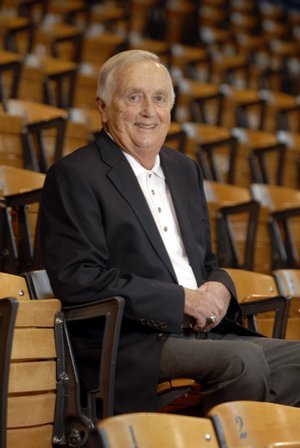 Bales studied organ at KU and worked with Kansas businessman Dane Hansen for many years. She helped organize the Dane G. Hansen Memorial Museum and Museum Association, of which she is president.
With assistance from the Dane G. Hansen Foundation, Bales and her late husband, Dane Bales, helped finance the Dane and Polly Bales Organ Recital Hall at KU.
Dick Boyd, president of the Native Sons of Kansas, and Pat Reeder, president of the Native Daughters of Kansas, will present the awards during the banquet program at 6:30 p.m. Friday. Social hour will be at 5:30 p.m.
Falkenstien, who is a retired senior vice president of Douglas County Bank, has lived virtually his entire life in Kansas except for a few years of U.S. Air Force service during World War II.
"The real strength of Kansas is the people who live here," he said. "I think they're friendly. They are anxious to help. They are not selfish."
Falkenstien said he keeps busy with appearances, attending KU games and working on projects, such as a second book about his career.
More like this story on KUsports.com