The loooong 0-fer is over.
Kansas University's women's basketball team won for the first time in a month, spilling sad-sack Sacramento State, 69-50, Wednesday night in Allen Fieldhouse.
"It felt like a month of Sundays," coach Bonnie Henrickson said of the drought.
KU's last victory had come exactly a month earlier against Santa Clara.
"It seemed longer," said freshman Sade Morris, who provided a spark off the bench with 14 points and three steals.
Kansas (6-11) snapped a seven-game losing streak while posting only its second triumph in its last 12 games. Henrickson used 13 players, and 12 of them scored.
Danielle McCray, one of the few Jayhawks who hasn't started a game this season, led the way with 15 points, but the most impressive numbers were recorded by senior Shaq Mosley.
Mosley, starting for only the fifth time, posted an unusual double-double. She's the shortest player on the team at 5-foot-6, yet she snatched a career-high 11 rebounds to go with 10 points.
Three more assists and Mosley would have had a triple-double.
"She can play big off the rim," Henrickson said of Mosley, "and that was important for us."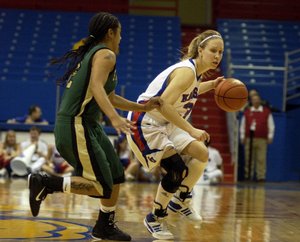 Mosley also contributed a pair of steals and one of the Jayhawks' two three-point goals.
"I thought Shaq energized us," Henrickson said. "She prefers to come off the bench, but she's a senior and I think she felt a sense of urgency."
So much so that Mosley didn't bat an eye about the rare start.
"At this point," Mosley said, "I just really want to win. Just looking back and seeing those L's makes you want to win so bad."
Curiously, though, many of Mosley's teammates didn't seem to share her desire to snap the losing skid, at least not in the early going.
Plagued by first-half turnovers - KU had 22 overall - the Jayhawks bumbled to a 28-20 halftime lead against a mid-major that had won only three of its first 17 games.
"We ought to be the most hungry team in America for a win," Henrickson said, "and we didn't come out that way."
The outset of the second half was worse. After five minutes, the Hornets had cut the deficit to two points (32-30), prompting Henrickson to make wholesale substitutions.
"I hockey-subbed because we had given up a pair of threes," the KU coach said.
Then the Jayhawks went on a tear, hitting six straight shots - three by Morris - to remove all doubt and coast to their most lopsided win of the season.
The Jayhawks were able to overcome an off night by Kelly Kohn, their leading scorer. Kohn couldn't hit a coffee cup with a doughnut. She did have six rebounds and six assists, but she clanked nine of 10 shots.
"Right now, she's really pressing," Henrickson said of the 5-9 freshman guard. "Her shot doesn't look good."
Everybody else's shots looked good. The Jayhawks may be the worst shooting team in the Big 12 Conference, but they shot 51 percent (30 of 59) against the stinger-less Hornets.
Henrickson used everyone - even walk-on Katie Smith scored her first point of the season - except Maria Zinic, who has a stress fracture in her right leg.
Zinic has been cleared to participate and was suited, but Henrickson didn't use the 6-2 sophomore.
"She doesn't want to play on it," Henrickson said. "As soon as Marija decides she wants to play, she'll play. But she doesn't think she can play."
Kansas will resume Big 12 competition Saturday against Iowa State. Tipoff will be at 7 p.m. in Allen Fieldhouse.
More like this story on KUsports.com