When Jon Cornish analyzes his potential place in professional football, he doesn't see much to worry about.
"For most of these guys, they have their whole futures banked on the NFL," Cornish said. "I'm not in a position that I need to do that. I have a lot of other things I can do."
That includes an all-but-guaranteed spot in the Canadian Football League if he wants it.
But Kansas University's former star running back is shooting for a spot on an NFL roster right now, and it seems to be setting up nicely for him so far. After leading all rushers with 41 yards in the East-West Shrine game last month in Houston in front of dozens of NFL scouts, Cornish is flying to Indianapolis next week to take part in the prestigious NFL Combine.
His turn will be Feb. 24, and the NFL Network (Sunflower Broadband channel 154) will televise the workouts live starting at 10 a.m.
"I talked to a lot of teams at the Shrine bowl," Cornish said, "but they typically just wait until the Combine to see what they're really interested in."
Cornish said he's "going to go all out" in Indianapolis, and to prep for it, he chose to stay in Lawrence and train with KU strength coach Chris Dawson while he finishes up his psychology degree. When he's not working out or studying, he admits he browses the Internet from time to time to see what pundits think of his game.
"Right now, my biggest thing is the way I've been valued in certain draft analysis," Cornish said. "It's never been higher than I expect I should go.
"I've seen numbers as high as six or seven (among running backs), and numbers as low as 20. For me, it's an insult."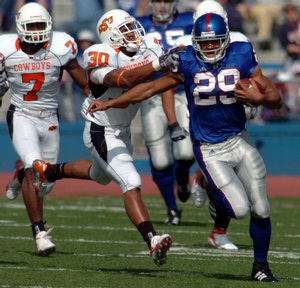 After rushing for a KU single-season record 1,457 yards on just 250 carries last fall, many draft experts do feel Cornish will be selected somewhere in the NFL Draft, which starts April 28 in New York.
Besides being a 6-foot, 210-pound running back with good acceleration, good power and gaudy statistics to show his worth, Cornish proved to be one of KU's top special-teams player early in his college career. That versatility makes him a lower risk to NFL personnel looking for sure-thing contributors to their franchise.
Scouts, Inc., says Cornish is a probable mid- to late-round pick. Fox Sports projects him as a seventh-round selection. If he's not selected, he's all but guaranteed to get free-agent offers, something former Jayhawk Charles Gordon turned into significant playing time with the Minnesota Vikings last year.
But even if it doesn't work out, Cornish still is in great shape.
Despite having college eligibility remaining and no plans of going pro, Cornish - a British Columbia native - was drafted by the Calgary Stampede in the second round of the CFL draft a year ago. The Stampede retain his rights and likely will be interested in Cornish if Cornish is interested in them.
Cornish has said in the past he would like to play in his native Canada someday.
But not yet. The NFL comes first, if the next few months go well.
"Either way," Cornish said, "I got great backups."
More like this story on KUsports.com