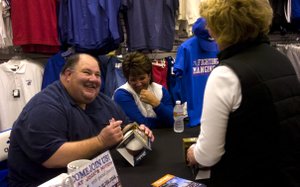 Aqib Talib and Anthony Collins gave their best pitch earlier this month.
Kansas University's two All-American football players, each lightly recruited coming out of high school, were interviewed on national television during the ESPN College Football Awards Show on Dec. 6. Given the opportunity, Talib spoke eagerly into the camera about what Kansas can provide recruits that the tradition-rich programs can't - namely, early playing time.
You see, recruiting never, ever ends. But at Kansas, it never seems to change, either.
If you need any more proof on how confident KU's football coaches are in their plan, look at how recruiting has evolved since the Jayhawks' magical 2007 season started to take shape.
From their end, it hasn't.
"When we made it to a BCS bowl, we didn't say, 'OK quit recruiting these guys. We're going to go recruit all these other guys,'" KU coach Mark Mangino said. "We've stayed on the type of kid that fits the profile of our program, that wants to be at Kansas, that has some of those values that we talk about all year here. The value of hard work, teamwork, wanting to be a good citizen, wanting to earn a college degree."
From the other end, though, it is getting better.
Kansas locked up another popular recruit Friday, when Rivals.com reported that touted cornerback Greg Brown out of Cedar Hill, Texas, committed to the Jayhawks this week.
Brown, a former teammate of current KU receiver Dezmon Briscoe, picked Kansas over Kansas State, Virginia, Arizona and Arkansas. Cedar Hill High coach Joey McGuire said the Jayhawks' new shiny resume had something to do with it.
"When you are 11-1, that sure does help," McGuire told Rivals. "When you are doing that, you can get kids like Greg. : Kansas is catching up."
But like many aspects of the KU football program, recruiting will take baby steps toward greater heights.
Right now, Kansas is noticing increased interest from their top targets more than anything. More commitments from the top targets - especially over schools that can thrive off name alone - is the next step they're approaching.
"We've always recruited great players," Mangino said. "But some of the great ones, by September, tell you to get lost. This year, some of them are visiting, have visited and are really interested."
One is Cyrus Gray, a 6-foot, 190-pound running back out of DeSoto, Texas. Gray is being recruited by several of the traditional powers, including Notre Dame and Florida. The Jayhawks offered early and have since stuck around in the top five of Gray's lengthy list. He took an official visit to KU earlier this month.
Examples like Gray are slowly starting to become more common at Kansas.
The Jayhawks are more than halfway home on their 2008 recruiting. Brown's commitment on Friday gives KU 16 known pledges for the class, with signing day on Feb. 6.
The 11-1 regular season and Orange Bowl berth certainly don't hurt. But the Jayhawks aren't getting over-inflated heads over it, either.
"People ask me all the time if recruiting gets easier. It never gets easier," Mangino said. "That term doesn't fit with recruiting. But we have kids that maybe would've dropped off earlier in the season.
"We are competing with more successful programs in the country. It never really gets easier, but more doors have opened and more kids have kept their interest with us."
More like this story on KUsports.com