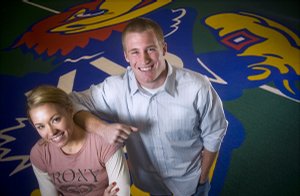 Both Micah Brown and his younger sister, Ashley, insisted they didn't know where the other was headed for college, even in the minutes leading up to signing their letters of intent for track scholarships.
The two sat down at a table inside their Kearney, Neb., high school on national signing day during their senior years, only to find out both had selected the same school.
"We got there, and I was like, 'Where are you going?'" Ashley recounted. "He said KU, and I was like, 'Nuh-uh.'"
Said Micah, "We didn't really even talk about it for a month. It was kind of a surprise to us."
Call it a sibling's sixth sense. After all, the Browns were born just a minute apart.
Micah and Ashley - who randomly were assigned to live across the hall from each other in Kansas University's Naismith Hall freshman year - were close growing up. In high school, many thought the two were boyfriend and girlfriend because of how often they were seen together.
"Micah would say when we go on vacations, he makes her walk behind him so the chicks know that he's single," joked their mother, Michele Brown.
Perhaps their greatest shared trait has been an unwavering drive in their pursuit of athletic success - particularly in the face of adversity while at KU.
At Kearney High, Micah was a first-team all-conference running back, earning eight varsity letters in track and football. Ashley, meanwhile, broke the state record in the 100-meter hurdles and won four straight state championships in the event. She totaled six varsity letters in track and dance.
"People always compare us," Ashley said. "They say we're both fast and that no one outworks us."
Both are highly competitive athletes. But individually, the two couldn't be more different. And neither could their paths at KU.
While Ashley's decision to become a Jayhawk was based on athletics and a close proximity to home, Micah's decision had less to do with sports and more to do with his other passion: film. His short film last semester was up for five awards and won three in KU's film department, including best director and best picture.
"Kind of a psychological thriller," Micah said. "It was OK."
The differences don't end there.
"We're kind of polar opposites in a lot of ways, so you really wouldn't even know we're in the same family," Micah said. "She's a health freak, I'm not. Ashley brings orange slices to a movie for a snack, I bring candy."
Michele Brown said the two always have been that way.
"Ashley is definitely a Type-A personality," Michele said. "She definitely takes life more seriously than Micah does. He tends to lighten her up a lot, and she keeps him organized.
"He's always been a major source of encouragement for her, just to make her laugh when things were hard."
That became extremely important during October of Ashley's sophomore year at KU when she was afflicted with compartment syndrome, a condition in her shin muscles that occurred because of over-training. The syndrome causes inflammation within a confined space and often leads to nerve damage.
Ashley was relegated to a wheelchair for a month, losing motor functions and having to re-learn how to walk.
"When I was having surgery, he was the family member that was here who made sure I had what I needed," Ashley said of Micah. "Just going through hard times, it was good having someone around."
By late April, Ashley was back on the track for the outdoor season. Just one year later, she earned All-America honors by finishing 10th in the 400-meter hurdles at the NCAA Championships.
"She had to ride the Handi-Bus, which helped her to appreciate the fact that her disability was temporary," Michele Brown said. "She figured out a way to get it done. I think she is a real strong example of what hard work and spirit can do."
At the same time, Micah was dealing with a decision to give back his track scholarship in favor of becoming a walk-on for the KU football team. He said he realized how much he missed the game while watching the Jayhawks play Kansas State during his freshman season.
"I saw it as a really big challenge, and I had never put myself in a situation where I had to really work and struggle and overcome those kinds of things," Micah said. "I knew that it would be hard to get to play, and I wanted to see what I could do if I absolutely threw everything I had into it."
As a junior this year, Micah became the only walk-on to play in every game for the 11-1 Jayhawks, specializing in kickoff and punt coverage.
"I know that Micah and Ashley's faith has really allowed them to persevere through some difficult times," said their father, Todd Brown, "and take a tough time and don't just see it as a bad thing but say, 'What can I learn as a person?'"
Todd, who was a star wide receiver at Nebraska in the early 1980s, played in two Orange Bowls as a Cornhusker.
Twenty-five years later, Micah will appear in the same bowl for Kansas on Jan. 3.
Neither Micah nor Ashley has allowed any shortcomings to trump their goals, even when doubt may have crept in for others. And the entire Brown family will celebrate that together when Micah lines up for his first kickoff in the Orange Bowl.
"I'm going to miss a day of practice, but coach is just going to have to deal with that," Ashley said. "It's something I wouldn't miss."