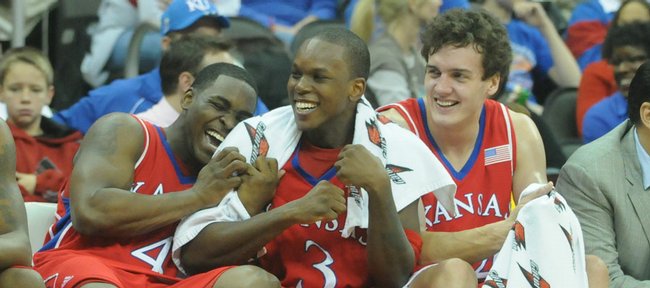 Audio clips
2007-08 Dec. 15 KU-Ohio Basketball
Kansas City, Mo. — Thanks to shiny, new 18,500-seat Sprint Center, Kansas University's annual basketball trip to Kansas City is not drudgery any more.
"This is so much better than Kemper. There's no birds (flying in rafters). It's just beautiful," Kansas City native Brandon Rush said Saturday after scoring 13 points with three assists and three rebounds in KU's 88-51 victory over Ohio - the Jayhawks' first game in the downtown arena that has replaced run-down Kemper Arena as "Allen Fieldhouse East."
"I didn't hate Kemper, but the floor was a pretty bad floor. It was real slick. I remember slipping on it last year," noted Rush, who made his first start of the season in front of his mother and grandmother, as well as several uncles, cousins and friends just a short five-minute drive from his childhood home.
"The Sprint Center is so much better. It's the best arena I've been in in a while. It's like an NBA arena the way things are set up. It's worth the money they spent on it."
The 6-foot-6 junior definitely felt at home in the $276 million arena.
He hit his first three three-point tries and exploded for 11 points in helping KU to a 22-9 lead. He had one three-pointer - Mario Chalmers canned two and Sherron Collins one - in a 32-4 run that gave KU a 42-13 lead with 2:37 left in the first half.
"I was motivated. This was my first start in a while. It felt good to get out there in the beginning of the game, help set the tempo early," said Rush, who had come off the bench in his first seven games of the season, being brought back slowly but surely from June 1 knee surgery.
"I had a lot of open shots. My point guards were finding me. Russell was finding me. That's why he got 11 assists."
Russell Robinson, who did not score in the 32-4 run, totaled six points with 11 assists and two turnovers in 25 minutes.
"Wasn't he great?" Self asked of the senior guard. "He was terrific. He didn't score a point in the first half until the end, still he controlled the game.
"The reason we've played better of late is primarily Russell and Mario (Chalmers, 17 points, five assists, four steals). Mario was great. Russell was as good. He played a great floor game."
KU's guards moved the ball at a quick pace during the 32-4 surge, which included seven points from Darrell Arthur (14 points, eight rebounds) and Darnell Jackson (11 points, eight boards) and six from Chalmers.
"Coach in the locker room said it's probably as good as we played in a while the first half," Rush said. "We took everything away from them."
KU dominated Ohio in so many aspects folks had to wonder how the Bobcats (6-3) won at Maryland on Wednesday night.
"Certainly when you are playing a team that the players feel you should be able to beat, it's important when you have the opportunity to extend it (lead)," Self said, "so that team doesn't think they can beat you. We've let teams hang around in the past. When you do that, anything can happen."
There was no danger of that happening Saturday.
No. 3-rated KU had wrapped up its 10th victory against no losses by halftime. The Jayhawks hit 54.8 percent of their first-half shots to Ohio's 17.2 percent (5-of-29 shooting) and led, 46-20, at the break.
It was showtime the second half with Robinson's 10th assist coming on an alley-oop jam by Arthur. Also, Sasha Kaun had a vicious slam off a lob from Robinson - who else?
Cole Aldrich had a vicious slam off a rebound, and Jeremy Case had three assists in six minutes and hit a three.
"The guys played pretty well," said Self, whose Jayhawks outrebounded the Mid-America Conference team, 46-27. "We had some athletic plays.
"It's a great building," Self added of the Sprint Center, which was hopping with 18,482 fans officially on hand. "I think this place will be jumping for the Big 12 Tournament."
Rush and his buddies can't wait for the March 13-16 event.
"It's the first thing we said after the game was over: 'We can't wait to come back for the Big 12," Robinson said.
Go figure
17.2
Ohio's first-half shooting percentage
(5-for-29)
54.8
KU's shooting percentage in the first half (second half, too)
34
Field goals by the Jayhawks (in 62 attempts)
24
Assists by the Jayhawks
17
Field goals by the Bobcats
9
Assists by the Bobcats
11
Assists by Kansas' Russell Robinson
18,482
Sprint Center attendance, 18 short of capacity
More like this story on KUsports.com