Thursday, December 13, 2007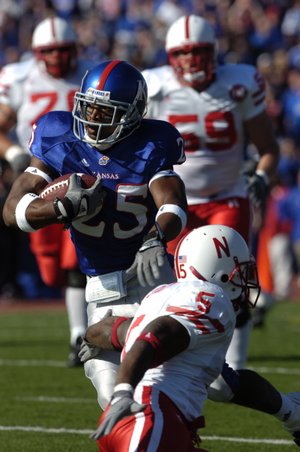 Kansas University football safety Darrell Stuckey's persona best can be summed up by a story told by teammate James McClinton.
"I remember one time we were doing a Relay For Life," McClinton said of the event held annually at Memorial Stadium that raises money for the American Cancer Society. "You spend the whole night out there walking around the track, and he was on my team. He came in being Darrell Stuckey, all energetic. I'm starting to get all sleepy and tired after a while, and he's still the same person as he was when he came in. I mean, dude, do you get tired man? Where does he get this energy?
"I've probably never seen anybody like Darrell Stuckey."
Yes, energy and a vibrant personality. They're characteristics Stuckey has prided himself on since even before he was a four-sport standout at Washington High in Kansas City, Kan.
"I feel like I don't make a whole team, but I feel like I can help the environment that it practices in," Stuckey said. "My energy and my determination and just the love for the game is going to influence others. I'm not saying I'm the best player, but I think I'm a very competitive player that betters the people around me."
The 6-foot-1, 205-pound sophomore has used that mentality to play an integral role in leading KU - ranked 14th nationally in total defense - to an 11-1 record and a Jan. 3 Orange Bowl date against Virginia Tech. Stuckey has started at safety in zall 12 games this season for the Jayhawks, recording 66 tackles, two interceptions and two fumble recoveries. Those numbers led to an honorable mention nod on the All-Big 12 squad.
"I think the best part of his game is he's aggressive," KU wide receiver Marcus Henry said. "He'll come and hit you if he needs to, and he'll play in coverage when he needs to. He just reads the field very well."
For as much of an impact as Stuckey has made on the gridiron at KU, the outgoing and upbeat local product admitted there was a time when he thought nobody wanted to take a chance on him because of where he came from.
"Washington High School is not a school that is very recognized for athletics because it is deprived of a lot of the facilities or the weight room to get the kids strong enough or even the discipline and the dedication by most of the students," Stuckey said. "Just being from Wyandotte County, there's not too many people that come out of there (to play Division I sports). There's a lot of crime where I'm from."
As a WHS junior, Stuckey was named offensive player of the year as a wide receiver and running back and team MVP for his high school football team. No scholarship offers followed. He played basketball during the winter and waited to hear from schools about football. Still nothing. Finally, in June before his senior year, he received his first scholarship offer during baseball season.
It was from KU football coach Mark Mangino.
"Nobody even thought about offering me anything until after that," Stuckey said. "Usually the person who offers you first is the one who wants you the most and is willing to do what it takes to keep you. Instead of just wanting you for depth on their roster. I felt like I could come here and fulfill my own destiny and make my own footprints.
"It was something I think that God really fulfilled for me."
Enthusiastic. Humble. Loyal. Three qualities that define Stuckey off the field and make him a valuable asset to the Jayhawks on it. Now, he gets to display them for all to see on one of the biggest stages in KU football history. It's a football program that, like Stuckey, wasn't lauded with much national attention two years ago.
Upon being informed that the Jayhawks would be playing in their first BCS bowl game, Stuckey said his initial thoughts went back to what it took for him to reach this point.
"I was like 'I can't believe I made it,'" Stuckey said. "It's one of those things that as a little kid, you just look on TV and be like, 'Man, that's amazing. I wonder how it feels just to be a part of something like that?' Just growing up and seeing how your life plays out and seeing yourself in the same situation, playing for that bowl, that feeling is just amazing and it makes you speechless."