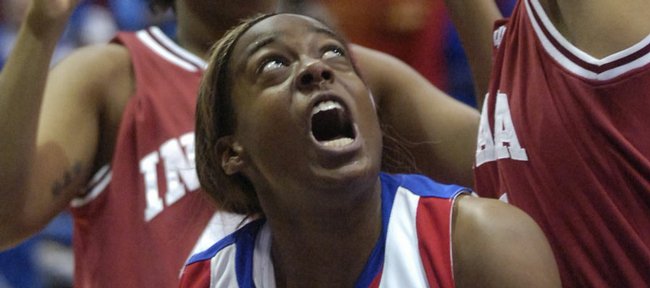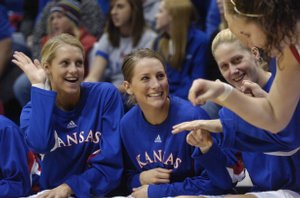 Sophomore guards Danielle McCray and Sade Morris walked into Allen Fieldhouse on Sunday afternoon for their game with Indiana as the go-to scorers for the Kansas University women's basketball team.
But when the game started and both struggled to fill their usual roles against the Hoosiers, their teammates didn't panic. They stepped their games up. And KU fought for a 69-61 victory.
In the first half, McCray missed six of her seven shots, and Morris went 1-for-5. However, freshman forward Krysten Boogaard went 5-for-5 and scored 10 of her career-high 13. Point guard Ivana Catic, who scored seven of her 10 before the half, teamed with Boogaard to keep KU in the game.
"Credit the kids on a night when 'De (Morris) and Danielle struggled offensively," KU coach Bonnie Henrickson said, adding that her players battled through adversity. "That's important. That's what good teams do."
McCray finished with 12 points, hitting just three of 13 shots, but Henrickson said she learned a lot about her team as it refused to fold when McCray and Morris were a tad off.
"Hopefully, it won't be both of them in the same night, but if it is, it's good to know that you've got a lot of kids who have a lot of confidence in themselves and aren't going to stand and panic if 'De and Danielle are in a night where they're struggling," Henrickson said.
Catic, who usually does more distributing than shooting, had an ice pack on her shoulder after going 4-for-4 from the floor and hitting a 3.
"I shot a lot," the junior, who averages just 4.8 points, joked when asked about the ice. "I took four shots. That's a lot for me."
The 5-foot-8 pass-first guard was proud of her team's effort in a competitive game.
"It's a great thing because it shows we're not just going to give up when one of our leading scorers don't have a good night," she said. "I thought we did a good job to keep playing and hanging in there and just waiting to make our little run, and fortunately we managed to do that."
After handling its previous three home opponents with relative ease, the Jayhawks (7-1) finally got a fieldhouse fight Sunday afternoon from the Hoosiers (4-5). KU trailed by four midway through the second half, but used a 15-4 run to take control.
Taylor McIntosh, who scored 10 points, Boogaard, McCray, LaChelda Jacobs and Nicollette Smith all scored for KU during that crucial run which gave the team a 61-54 advantage with less than four minutes to play.
Boogaard, who comes off the bench for KU, only scored three in the second half, but she made her presence felt in all 20 minutes of floor time by running the floor, altering shots in the paint and grabbing seven rebounds.
"I like being inside and being a presence," the 6-2 freshman said, adding that, in the future, she hopes to avoid the foul trouble which sent her to the bench a few times in the second half Sunday. "It's kind of hard, but I've got to work on keeping my arms back and not putting my arms in when people are shooting."
Henrickson said Boogaard has come a long way in her short time at KU, noting that the Regina, Saskatchewan, native is playing with confidence and using her strength to establish inside position.
"She's adjusting to do the little things it takes to be a good post player at this level," her coach said, adding that by keeping the ball off the floor, she has become much more effective offensively. "If you look at her first game, she dribbled more than a point guard."
KU, in the midst of semester finals, will not play again until Sunday night against UC Riverside. But that doesn't mean the work will get any easier.
"We don't go easy many days around here," Henrickson said.
More like this story on KUsports.com