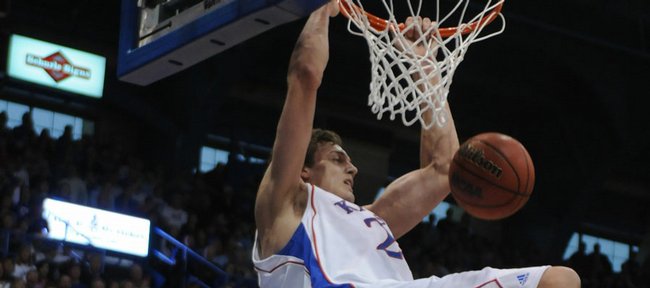 Go figure
15
Season-high points by Kansas' Sasha Kaun on 6-of-7 shooting
24-1
First-half run by the Jayhawks
12, 9, 7, 7
Points, rebounds, assists, steals by KU's Mario Chalmers
1
Blue Demon without at least one turnover, compared to 9 with
4
Jayhawks who didn't have at least one assist, compared to 10 who did
21-12
KU's rebounding advantage in the first half
27-13
KU's rebounding deficit in the second half
1
Points by which Kansas outscored DePaul in the second half
Shoulders slumped, Sasha Kaun sauntered to the bench after missing a layup and committing a turnover in the opening minutes of Saturday's Kansas University-DePaul matinee at Allen Fieldhouse.
"I took him out. He was so down," KU coach Bill Self said of his senior center.
Instead of chewing on the 6-foot-11, 250-pound native of Tomsk, Russia, Self consoled him.
"I was trying to figure out what the heck is wrong with me. Coach said, 'Don't get down. Don't put your head down. Just regroup.' He was pretty positive," Kaun related.
Whatever Self said, worked.
Kaun, upon re-entering, scored six straight points to open a back-breaking 24-1 surge that propelled the Jayhawks to an 84-66 victory over the Blue Demons.
"I had no energy. I needed to play with energy - go out there and have fun," Kaun said after exploding for 15 points, five rebounds and two blocks in just 15 minutes - by far his best effort of the season.
It turned out he had plenty of energy to give after soothing - not fiery - words from his coach.
"I speak to him loudly many times. I thought that was not the time to do that," Self said. "I get upset with Sasha when he doesn't play aggressively. I don't get upset with him when he's trying and things are just not working out.
"He's trying. It just had not worked out for him of late. He'd lost his confidence a little bit."
Kaun, who hit six of seven floor shots and three of four free throws, first converted an inside shot to erase a 13-12 deficit at 10:17.
He then swished two free throws, and, after a Will Walker charity, scored on the inside again to give KU an 18-14 lead at 8:36.
Kaun didn't score again in the run, but Brandon Rush had eight points and Mario Chalmers four, and KU led, 36-14, with 2:30 left before halftime.
Kaun played most of the run despite picking up his second foul after scoring his fourth point.
"He was on a roll. We wanted to run with it as long as we could to see if he'd get some confidence," Self said of Kaun, who'd had just two double-digit scoring outings this season, no double-digit rebounding efforts and some horrid efforts from the foul stripe.
"I think today was kind of a crossroads for him. He could have gone the other way easy," Self said. "It was good to see him show some toughness. He'll draw from this a long time."
Kaun had a vicious slam dunk four minutes into the second half and played such intimidating basketball a "Wrath of Kaun" video mimicking "Star Trek: The Wrath of Khan" appeared on the videoboard during a timeout.
"I didn't see it. I heard about it," Kaun said with a smile.
What turned him into a beast Saturday after such a slow start?
"I don't know what happened at the beginning of the game. I just got off on the wrong foot or something," Kaun said. "I had some time and re-grouped myself. It's that I need to be more active, have more energy, and good things will happen. The season is moving along. We're getting closer to conference play. The team needs me to start playing well."
Kaun's teammates were impressed.
"I hope Sasha didn't tease us because he can play like that every day," senior guard Russell Robinson said, adding, "He didn't get off to the best start in the world. He was a little down on himself at the beginning of the game, but he definitely bounced back.
"We get him playing like that ... the team goes upward," added Robinson, who, along with Rush and Rodrick Stewart, helped stymie high-scoring Demon Draelon Burns.
Burns, who had scored 32 points in each of his last two games, scored 10 off 3-of-11 shooting. He missed five shots and didn't score the first half as KU opened a 39-22 halftime lead.
"We didn't do anything other than make him a focal point and rotate guys on him," Self said. "We didn't trap him. We did want to know where he was at all times. He made his two 3s (in four tries) in the last five minutes. So he was 1-for-9 going into that. Everybody can take some pride in that."
The rout provided sweet redemption for a KU team that blew a 14-point second-half lead in a loss to the Demons last year in Chicago.
"We knew they had a good team and were capable of beating us," Kaun said.
Fat chance Saturday against the likes of Kaun, Rush and Darrell Arthur (13 points each), as well as Chalmers, who had 12 points, nine rebounds, seven assists and seven steals for the No. 3-rated Jayhawks (9-0).
"I thought we played well. I thought all our big guys played well," Self said. "They were confident. Everybody needs confidence to be worth a flip."
The Jayhawks, who begin final exams Monday, will meet Ohio at 4 p.m. Saturday at the Sprint Center in Kansas City, Mo.
More like this story on KUsports.com