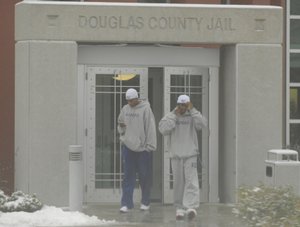 Kansas University junior basketball guard Brandon Rush was arrested on Thursday afternoon on two outstanding warrants for failure to appear in court for traffic violations.
The 6-foot-6 Rush was handcuffed and transported from Lawrence Municipal Court to Douglas County Jail where he was released after posting $500 bond.
Rush, who had come to court to take care of at least one of his traffic matters when he was arrested about 3 p.m., headed to Horejsi Center about 4 p.m., where he practiced with KU's team.
"We are disappointed because our players need to be more responsible when handling situations in dealing with the law. Brandon did not appear in court, therefore, this happened," said KU coach Bill Self, who indicated "any team punishment would be handled internally."
Self said Rush would not be suspended from the team and would be eligible to play in Saturday's 1 p.m. home game against DePaul.
"This is a costly lesson for him and a great lesson for the rest of our players," Self added.
Rush was charged in one case with driving with a suspended license and speeding on Oct. 19. He also faces charges from a December 2006 case for driving on the left of a roadway and having no proof of insurance.
He failed to make an appearance in the '06 case, and a warrant was issued. He failed to appear again on Nov. 28, date of the KU-Florida International game. His next court date has been set for Dec. 12.
"I'm not going to make excuses for him at all, but this isn't the first time something like this has happened (to individuals in society)," Self said. "Certainly you have to be more responsible. It's not an excuse. We've got to handle our business more responsibly."
Self said he was not taken by surprise Thursday.
"We knew that he needed to take care of a responsibility because we were told that," Self said. "When we were told that, we notified him, and he went to take care of it. Unfortunately it was too late.
"Traffic violations should be handled. All fines should be handled," Self added. "But it's made out to be a bigger deal than what it could have originally been if he'd been responsible from the outset (and appeared in court). Certainly he understands that."
As far as what internal team penalties Rush will face, Self said: "My dealings with Brandon and our team ... under these situations, I'm not going to make it public what we talk about or what we do."
¢
Injury report: KU freshman Tyrel Reed, who sprained his left ankle with 8:12 to play in Wednesday's win over Eastern Washington, did not practice on Thursday. A right ankle sprain had kept him out of the Jayhawks' previous two games.
"It is very very tender," Self said of the left ankle. "It's sore. He is questionable (for Saturday's game)."
Senior Sasha Kaun, who sprained his left ankle five minutes into Wednesday's game, practiced on Thursday. "He looked fine," Self said.
Both Kaun and Reed returned to the game after suffering the sprains on Wednesday.
¢
Early look at DePaul: The Blue Demons, who erased a 14-point second-half deficit to beat KU, 64-57, last December in Rosemont, Ill., have defeated Northwestern (54-53) and Texas A&M;/Corpus Christi (85-70) and lost to Creighton (74-62) and North Carolina A&T; (96-93). Senior guard Draelon Burns has scored 32 points in each of the last two games.
¢
Clinics: The KU men's basketball team's annual holiday clinic for boys and girls grades 3 through 8 will be held 9:30 a.m. until noon on Thursday, Dec. 27. Cost is $65. KU's women's team will host its holiday clinic for boys and girls kindergarten through 8th grade, from noon until 2 p.m., on Tuesday, Jan. 1. Cost is $15 per child and $5 per participating parent. Information on both clinics is available at kuathletics.com
More like this story on KUsports.com