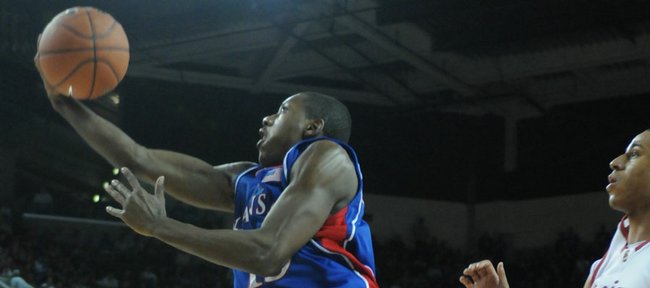 Podcast episode
Ryan Greene, Tom Keegan and Gary Bedore come to you from the Galen Center on the Southern Cal campus following KU's 59-55 win over the Trojans. The guys discuss what looks like Darnell Jackson's now permanent place as a starter, just what's going on with Darrell Arthur on offense and ...
Go figure
18
Free throws shot by each team
11
Free throws hit by KU
10
Free throws hit by USC
5
KU's scoring advantage from the free-throw line in the second half
12
Kansas' rebounding advantage (42-30)
6:22
KU's assist-to-turnover ratio
11:18
USC's assist-to-turnover ratio
21-17
USC's scoring advantage in points off turnovers
Los Angeles — Twenty-six NBA scouts gathered at USC's Galen Center on Sunday to check out certain "one-and-done" sensation O.J. Mayo in person.
The talent evaluators may have left the shiny, new arena - this day at least - more impressed with Kansas University junior Mario Chalmers, whose deep 3-pointer with :20 left upped a two-point lead to five points and helped the Jayhawks hold off Mayo's Trojans, 59-55.
"I'm not worried about outshining anybody," Chalmers said after scoring a game-high 20 points - 17 the second half - off 6-of-11 shooting, including 3-of-6 from 3-point land. "I just tried to get KU the victory."
Freshman Mayo, who was guarded closely by senior Russell Robinson much of the game, finished with 19 points off 6-of-21 shooting, including 3-of-11 from 3.
"Anybody on our team can take over a game," Chalmers said with a shrug. "I had the open shot tonight. Whoever is open will take it."
Chalmers' 25-footer, deemed "the biggest shot of the game," by head coach Bill Self, came not as the first option on the crucial possession.
"I threw it to Rod (Stewart) with five seconds on the (shot) clock because I thought he had a better angle to get it to 'D-Block,'" Chalmers said of feeding it inside to Darnell Jackson, who had nine points and a career-high 13 boards. "He gave me that look, so I knew he'd pass it back. I got it with three seconds left. I had to knock it down."
Stewart, who was credited with just one assist (with seven boards and four points) in his return game to his former school, made the smart decision in feeding Chalmers.
"Not to turn it over again," Stewart said, asked what he thought when first fed the rock by Chalmers, who, like Stewart, had five turnovers. "I knew there was little time on the clock. I didn't want to look at the clock. Last time I looked up I got a charge."
So he flung the ball back to Chalmers, well past the 3-point line.
"He was on my side calling for it. He was making all the shots. It's only fitting he take that shot for us. I knew it was going in right when it left his hand," Stewart added.
KU coach Self was mighty happy to see the 3 fall through the hoop. Shaky at the end, his Jayhawks led by nine with three minutes left and eight with two minutes to play.
"I was not pleased with his play from a mental standpoint at all, but good gosh he competed hard," Self said of Chalmers, who had no assists but three steals in his 33 minutes. "He showed a lot of poise. He competed down the stretch."
Mayo did convert an uncontested layup at :05 to slice KU's lead to three points, but the Jayhawks were able to inbound to Chalmers, who iced one of two free throws at :03 to end USC's hopes of a shocking come-from-behind win.
"That shouldn't happen with a veteran ballclub. Hopefully it won't happen again," Self said of fading down the stretch.
"(But) it was a good win, a grind-it-out win. Now we know we can win those," added Self, disturbed by KU's 22 turnovers, nine in an anemic first half that saw KU down, 27-25. "We were horrible. We missed layups. We turned it over. Somehow the lid never came off (KU hit 37.9 percent to USC's 38.5 for game), but we were able to get it tied (after being down 16-6). Offensively we were very poor, so stagnant and lost our poise.
"I'm not upset at our defense."
The defense on Mayo, of course, was pivotal.
"We didn't do anything special. All we did was try to guard him," Self said. "Give Russell credit. I thought Russell defended him well."
Mayo played all 40 minutes, suffering five turnovers.
"I think O.J. is as talented a kid as I've ever coached against," Self said. "Nobody has more talent. We tried to make him earn everything, tried to keep him off the free-throw line, which we did a bad job of the first half (he hit four of six charities the first half and didn't attempt any the second).
"We had to hope he shoots a bad percentage and gets tired. I think it's what happened."
KU returned to Lawrence right after the game and will gear for Wednesday's 7 p.m. home contest against Eastern Washington.
More like this story on KUsports.com