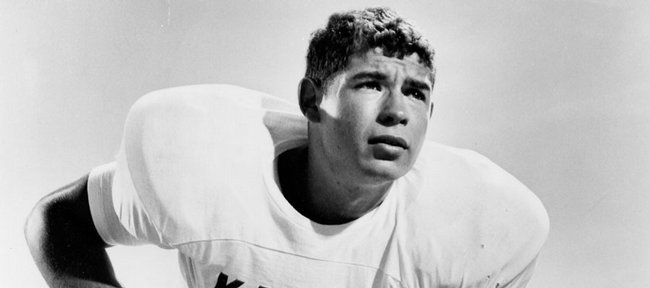 Former Kansas University running back John Riggins will have his name added to the KU football Ring of Honor at Memorial Stadium this fall.
Riggins will be the 15th player added to the Ring of Honor when Kansas plays Baylor on Oct. 13 at Memorial Stadium. He'll be the second this season - former linebacker Willie Pless will be added Sept. 1 during the Jayhawks' season opener against Central Michigan.
A standout running back at KU from 1968-70, Riggins compiled 2,659 rushing yards and 19 touchdowns in his career, including a 1,131-yard campaign as a senior in 1970. He helped Kansas to the Orange Bowl in 1968, earned an invitation to the Senior Bowl after his college days were over and went on to a lengthy NFL career with the New York Jets and Washington Redskins.
Riggins was inducted into the Pro Football Hall of Fame in 1992, after compiling 11,352 yards and 116 touchdowns in his 14-year career. He joined Gale Sayers and Mike McCormack as the only Jayhawks to be enshrined in Canton, Ohio.
The Centralia native is perhaps best known for his performance in Super Bowl XVII in 1983, when he led the Redskins to a 27-17 victory over the Miami Dolphins by rushing for 166 yards on 38 carries, including a 43-yard touchdown in the fourth quarter that put Washington up for good.
Riggins, 58, now works as a drive-time sports-talk radio host in the Washington area, where his motto is "I used to run my legs. Now I run my mouth."
Current members of the KU football Ring of Honor include Sayers, Nolan Cromwell, John Hadl, Curtis McClinton, Bobby Douglass, David Jaynes, George Mrkonic, Otto Schnellbacher, John Zook, Ray Evans, Bruce Kallmeyer, Gil Reich and Oliver Spencer.
¢ Fan appreciation day: The Jayhawks will invite fans to Memorial Stadium at 5:30 p.m. today for fan appreciation day.
Fans will be able to watch the end of practice, and at the conclusion, children will be invited onto the field to participate in drills and stretching exercises. KU players then will sign autographs on the field.
Fans are asked to enter and depart on the west side of Memorial Stadium.The west-side ticket office will be open during the event for those wishing to purchase single-game or season tickets.
More like this story on KUsports.com