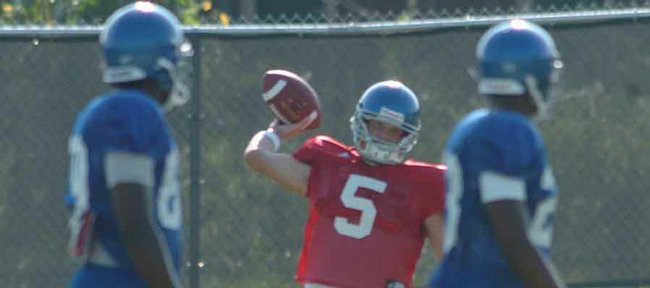 Sparky's about to become a starter, it seems.
If common sense told any of the 100 or so onlookers at Kansas University's open football practice anything on Monday, it's that Todd Reesing is in line to be the Jayhawks' starting quarterback when Kansas plays Central Michigan on Sept. 1 in the season opener.
Asked to confirm that Reesing was the front-runner, KU coach Mark Mangino hesitated, but did imply it.
"He has been extremely productive. He's taken control of things," Mangino said. "I don't want to use any terms, but I would say that probably we're pretty close to making a decision on the quarterback situation. It's not far off."
Reesing, nicknamed "Sparky" by Mangino, worked exclusively with the first team during 11-on-11 work Monday at the practice fields adjacent to Hoglund Ballpark. It was a stark contrast to the last six months of workouts open to the public, where Reesing and Kerry Meier split first-team repetitions almost evenly as the competition lingered.
Meier did all of the second-team work Monday, which likely served as foreshadowing for the immediate future, but also raised the question about whether the oft-injured Meier is held back once again. He appeared to run gingerly at KU's first open practice earlier this month during roll-outs and option runs, though he participated in the entire practice.
Asked whether he was dinged up last week at KU's media day, Meier said "Not really. Back in the summer I got a little dinged up, but I'm healthy now."
Mangino wouldn't even offer that much when asked Monday if Meier was 100 percent.
"I'm not going to discuss anything along those lines," Mangino said. "I'll tell you this: I don't think it has a bearing on the competition, who's healthy and who's not."
Reesing played in three games last season after having his red shirt pulled against Colorado in November. He led a come-from-behind victory over the Buffaloes and showed signs of being a major spark for the Jayhawks' offense.
But once Meier regained his health after a shoulder injury, he took over the bulk of the QB duties at the end of last season. Meier started all eight games he played, passing for 1,193 yards and 13 touchdowns. He completed 57 percent of his passes, but threw 10 interceptions.
Reesing, meanwhile, had part-time work in the three games he played. He threw for 204 yards on 14-of-24 passing with three touchdowns and three interceptions.
With a full offseason in the system, Reesing apparently made big enough strides to put him in the driver's seat in the offense's most important position.
All that's needed now is the official word from KU's sixth-year head coach. Apparently, it's not too far off.
"He understands the offense very well," Mangino said of Reesing. "He's throwing the ball very well. If you give him time, he's going to get the ball where it needs to be. He's poised, and he's doing the things the quarterback needs to do to move this offense.
"He has done a very good job at this point in time, and we're excited about what he's doing. He just has to keep doing it."
More like this story on KUsports.com