You can just picture Kansas University offensive coordinator Ed Warinner ripping a box open and dumping 500 puzzle pieces onto the desk in his office.
Envision him drumming up the quickest solution. Edges first? The most obvious area? The unique pieces?
This is what KU's football offense is heading into 2007: a complex jigsaw puzzle, only with pieces that are moving around and hoping to change minds. There are just a few positions with locks atop the depth chart - tight end Derek Fine, fullback Brandon McAnderson and tackles Anthony Collins and Cesar Rodriguez.
The rest is an ongoing battle, and to further complicate things, part of their testing is how they react to some new quirks Warinner has applied to the offense since he was hired in January.
So imagine those little puzzle pieces, running around right under Warinner's nose, trying to impress him. Now how easy would that puzzle be to put together with the season opener just around the corner?
"It's not a finished product yet," Warinner said. "What the players do on their own in June or July is critical, and they've been working hard. What we get accomplished in August is critical.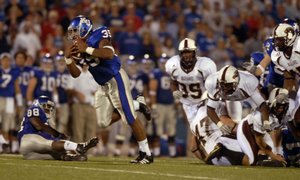 "The good thing I see is their confidence level is growing offensively. We're getting the ball to our playmakers."
Different strengths
A puzzle within the puzzle is at running back, where a plethora of potential works for an opportunity. McAnderson is a returning starter at fullback after constantly coming through in blocking, and rushing for five touchdowns in 2006. But even his role isn't without some questions.
"McAnderson," Warinner said, "will definitely be used more this year than he was last year as a ball carrier."
B-Mac ran the ball just 31 times for 122 yards, while catching six passes for 70 yards. Part of the reason was his blocking duties in pass protection and for tailback Jon Cornish, who led the Big 12 Conference with 1,457 rushing yards.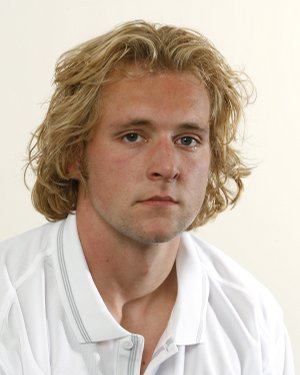 With Cornish playing in the CFL, KU coaches are finding that filling his shoes will be done by several players. McAnderson will be one, and sophomore Jake Sharp expects to be another. Sharp had just 21 carries as a true freshman, but averaged 6.1 yards per rush and provided a spark when in there.
Sharp and McAnderson are frontrunners for the lion's share of carries, but Angus Quigley, Donte Bean and even incoming freshmen like Carmon Boyd-Anderson and Steven Foster will fight well into preseason.
Fact is, Warinner doesn't feel the need to find one solution to this query. Sharp and McAnderson, he said, complement each other enough to open things up in the backfield.
"Having both on the field at the same time, we think could be a strength," Warinner said. "If we go one-back, which we do a lot, they both can play the one-back. They might have different plays they excel at, and that's part of the process we're going through right now: trying to determine what the strengths of each guy are."
Different targets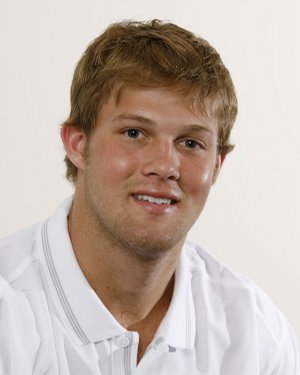 So let's go to the edges of this puzzle. Particularly those speedy pieces that provide the big plays that KU is looking to make more of this year.
When senior wide receiver Marcus Henry caught six passes for 150 yards and three touchdowns in the spring game, the question circulated around Memorial Stadium.
Is it Marcus Henry's time?
At 6-foot-4, long and athletic, Henry certainly plays the part of a playmaking wideout, cut from the same mold as former Jayhawk Brandon Rideau. He made a strong case that the "X" receiver spot should be all his. Playmakers have to be on the field in this new offense, and 25 yards per catch in the spring game probably qualifies.
But he's really not alone. Junior Dexton Fields (45 catches, 455 yards in 2006) looks to be a vital part of the offense, as will junior Marcus Herford (eight catches for 137 yards) and perhaps players like freshman Tertavian Ingram and senior Jeff Foster.
In addition, Warinner stressed the need to get Fine the ball more. The senior had 28 catches for 355 yards last year, but Warinner thinks he can do even more.
"I think he can be a pretty good weapon in the passing game," Warinner said. "He's pretty adept at all underneath routes, and yet he has enough speed to where you can sneak him down the field from time to time and get him vertically down the field.
"I thought we got Derek Fine involved a lot in the spring, throwing him the ball in practice. We want to use all our weapons."
The trenches
KU's going to have a new look on its offensive line. None of the five started at their current position last year, but it's not as bleak as it sounds.
Tackles Anthony Collins and Cesar Rodriguez swapped sides, a move that Warinner said "has become evident that they are truly playing the proper side for them now."
Collins will be on the left, protecting the quarterback's blindside as he makes a legitimate run for All-Big 12 honors and, in the future, a possible NFL contract.
Rodriguez, meanwhile, will be starting his fourth year on the offensive line, bringing senior experience that no one else in the trenches has. Rodriguez, in fact, was a starter in 2004 when Warinner was KU's offensive-line coach during his first stint in Lawrence.
Filling out the middle of the offensive-line puzzle is Ryan Cantrell, who's expected to start at center, and a battle at each of the guard spots involving Chet Hartley, Adrian Mayes, Matt Darton, Rameses Arceo and others. Freshmen like Ian Wolfe, Sal Capra and juco transfer Jason Hind could fill out the depth chart.
Warinner was involved in recruiting many of them from his first stint in Lawrence. Add to it John Reagan, who's in this third year as line coach, and there's not much ice to break up front.
"All those guys I feel real comfortable with," Warinner said. "They really improved in the spring."
Still working
What, you didn't think the quarterback position would be ignored, did you?
Once again, KU's football team will have a subplot involving the quarterback. It was interesting all last year because of Kerry Meier's injury. The year before that because of ineffectiveness until Jason Swanson stepped up. The year before that because of a bizarre number of injuries in consecutive weeks.
On and on and on.
KU coach Mark Mangino calls it a good problem, but we've heard that before. A year ago, the hype was that it was advantageous that Meier was named the starter in the spring so he could spend the summer preparing.
Whatever works, it's publicly still being considered an ongoing competition between Meier and Todd Reesing this summer. Both were brilliant at points last year, and both struggled at other points. They have different strengths - Meier's running, Reesing's improvising - and are very different quarterbacks.
Meier, a physical presence at 6-foot-3, 220 pounds, dwarfs the 5-11 on-a-good-day Reesing. But Reesing, who played only in the final four games last year, still provided some of the position's best highlights in 2006.
He led KU from behind to beat Colorado, starting a three-game winning streak. He scrambled and hit Fine in the end zone against Iowa State, one of the prettiest touchdowns of 2006. And while he won't be known for his wheels, he did scramble 63 yards against the Buffaloes after being flushed out of the pocket.
Meier had his days, too. He passed for 1,193 yards and 13 touchdowns in an injury-plagued season, including a three-touchdown day against Oklahoma State and 199 yards and two scores against Iowa State.
"Eventually, one of them will have to separate themselves," Warinner said, "and when they do separate themselves, it will become clear to us and we'll make a decision and announce who we think the guy is and go with him."
Still time
It all adds up to an important August of work for Mangino, Warinner and the rest of the offensive staff. Players will scramble to fit in to a desirable place, and the coaches hope their instincts and final decisions are right.
"We're trying to develop a system that has a tremendous amount of versatility, in a way that's user-friendly for the players," Warinner said. "Week-to-week, it can be adjusted to how teams play us on defense, what they're doing, who we want to get the ball to, personnel matchups."
Sounds like that puzzle will remain in 500 pieces for now. And maybe always.
More like this story on KUsports.com