Lincoln, Neb. — Sam Keller already has the fan adulation, and he already has been named offensive newcomer of the year in the Big 12.
All this, and he hasn't been named Nebraska's starting quarterback. At least not yet.
It has been almost a year since Keller had the starting job at Arizona State yanked from him unceremoniously. The decision by Dirk Koetter chafed Keller, and he left the desert for the green pastures of Nebraska.
"Best decision I ever made," Keller said Monday, just before the Cornhuskers took the field for their first practice.
The fans and media have hyped Keller since his arrival. But coach Bill Callahan said he wouldn't name a starter until the week of the Sept. 1 opener against Nevada.
Lots of folks in Nebraska say Callahan is playing coy and that Keller's anointment is certain.
Keller said he's preparing for a heated competition with Joe Ganz the next three weeks.
"This is a legitimate quarterback situation where both of us can be the guy," Keller said. "You have to let that play out as long as you can, until you know that that guy has earned it. Spring was a good barometer to know where I'm at. Likewise for Joe.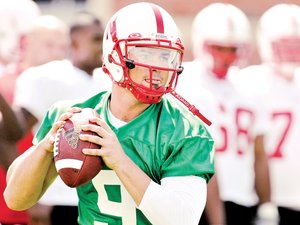 "The most important thing is that I have faith in the coaches. I trust them, and I think I can say Joe does as well. We're going to have a good team regardless. They have to make the decision on which guy can get us the farthest."
Keller emerged at the end of the 2004 Sun Bowl, when he was named MVP in a come-from-behind victory over Purdue. In 2005, he threw for 2,165 yards and 20 touchdowns in the first seven games before suffering a season-ending hand injury.
Keller was named the Sun Devils' starter in preseason practice last August, but Koetter said two days later that he had changed his mind and that he was going with Rudy Carpenter.
Koetter, fired after a 7-5 regular season, explained the about-face by saying he made a mistake.