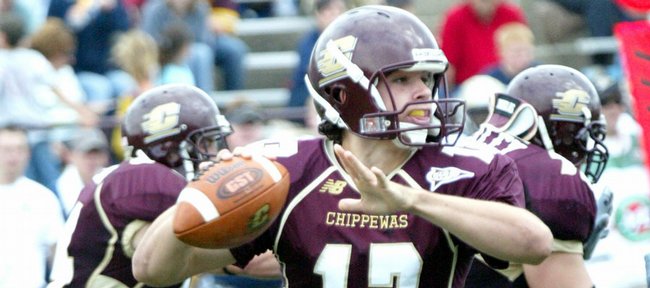 All Dan LeFevour knows of Kansas University's Memorial Stadium is a picture of the venue he saw earlier this summer.
"It looks like a great place," he said.
Now, LeFevour has his sights set on keeping the stadium as quiet in person as it is in the photo.
LeFevour, Central Michigan's decorated starting quarterback, is working to get KU's football season off to a lousy start - while at the same time setting the tone for another special year for the Chippewas.
Coming off a 10-win freshman campaign, LeFevour knows only success in the college ranks. He hopes the next taste he has of gameday has a similar flavor when KU and CMU play Sept. 1.
"Most of the summer has been focused on ourselves," LeFevour said. "But I'm sure when we report to camp, we'll start thinking more about Kansas."
LeFevour leads a playmaking offense that ignored the pundits and raced to a Mid-America Conference title a year ago. He passed for 3,031 yards and 26 touchdowns, both school records. He rushed for 521 yards and seven more scores, wowing opposing coaches with his intelligence in choosing between pass and run.
Most importantly, he won. After not even starting the season opener, LeFevour entered the game because of injury and proceeded to help CMU reached unexpected heights in the next four months. He did it all as a 19-year old red-shirt freshmen surrounded by older men, a few with a NFL career just months away.
So just how did this rookie get the whole team to go along for a great ride?
"Once they saw I was prepared and saw how much I cared for each game, they were obviously (on board)," LeFevour said. "They saw me make plays, and that's the bottom line."
Familiarity
Kansas will face a slew of respectable quarterbacks this season, from Missouri's Chase Daniel to Texas A&M;'s Stephen McGee to Oklahoma State's Bobby Reid.
Don't sell LeFevour short in comparison, though you could find plenty of reasons to. A graduate of Benet Academy in Downers Grove, Ill., the 6-foot-3 LeFevour had offers from schools with little prestige, from Eastern Michigan to Ball State. He chose Central Michigan because of the coaching staff's confidence in him - namely offensive coordinator Butch Jones.
The twist: Jones soon after left to be offensive coordinator at West Virginia. LeFevour signed in February of 2005 anyway and spent his first two years at CMU under head coach Brian Kelly and a different coordinator.
Then, Kelly left for Cincinnati in December, and the Chippewas made a familiar head-coach hire. One Butch Jones.
"It was very smooth," LeFevour said of the transition. "I knew what I was getting in a head coach. And he brought in a staff that was very easy to get along with."
Jones wanted to familiarize LeFevour with what he had been doing at West Virginia the past two seasons. So he brought film with him to Mt. Pleasant, Mich., and had LeFevour study the work of WVU quarterback Pat White.
Jones also wanted to re-familiarize himself with LeFevour, two years after snagging him under the radar out of the Illinois private school. He said he liked what he saw, and more importantly with a young QB, Jones likes what he envisions down the road.
"Dan has done a great job of trying to step up his leadership role," Jones said. "He is holding not only himself accountable, but his teammates accountable, and that is the big thing."
Biting a big dog
LeFevour sees the arrival of a new coaching staff as having an indirect benefit for Central Michigan - it will keep the back-patting from last year's 10-4 season in the past.
"It definitely has not been a team that's been satisfied," LeFevour said. "We've got a lot of new guys, and we have a whole new coaching staff. The last thing they're concerned with is last season."
The Chippewas don't have an easy road to similar success. They play at Kansas, at Purdue and at Clemson, with home games against Army and North Dakota State rounding out the nonconference slate. They were picked second to Western Michigan in the MAC preseason poll, despite returning loads of offensive skilled players.
LeFevour leads that list. He was named preseason MAC offensive player of the year after winning newcomer-of-the-year honors last season. He will be joined by running back Ontario Sneed and receiver Bryan Anderson, both coming off big seasons in 2006.
One thing missing from the Chippewas' 2006 run, however, was a victory over a BCS-conference team. They went 0-3 against the more heralded conferences, losing to Boston College by seven, Michigan by 24 and Kentucky by nine.
But if anything, LeFevour proved he could play against almost any team in college football. In that Kentucky game, the quarterback almost nobody recruited passed for 360 yards and four touchdowns and rushed for 47 more.
The Chippewas will get three more chances to unseat a college football big dog this year while working toward another MAC title.
The first try is in that picturesque setting of KU's Memorial Stadium. The one LeFevour hopes to hush as soon as he arrives.
"It's going to be great," LeFevour said. "They play in the Big 12, and they play great football there. We're definitely excited."
More like this story on KUsports.com