The six Kansas University tennis players warm up in pairs - separating themselves by their countries of origin. The two Americans practice on the first court, the two Russians together on the middle court and the two Hungarians on the far court.
"It's gotten a little cliquey," Salina junior Stephanie Smith said.
"Let's get retarded" by the Black Eyed Peas plays in the background as the players warm up - a reminder of the American culture the foreign players have immersed themselves in.
The four foreign players moved to Lawrence without ever visiting campus, the state or even the United States. They never met the two KU coaches in person. They had only talked to them on the phone through a translator.
They knew very little English. They could maybe say "hello," but not much else.
They knew very little about American culture. They didn't know what to eat. They wondered why their American teammates' teeth were so white and how they got so tan.
But they knew how to play tennis, and that's why they were brought to KU.
"Everybody wants to win, and you're going to put the best winning team out there, regardless if its Americans or internationals," KU coach Amy Hall-Holt said.
College tennis has become its own melting pot. It's become the norm to recruit players from outside of the country - a sort of 'everybody's doing it' mentality. In the Big 12 Conference, 52 of the 98 players were born outside the United States. In the ITA rankings, 25 of the top 50 Division I players are international players.
"In college tennis, I would say it's 60-40 international," KU assistant coach German Dalmagro said. "Just because in places like Europe and South America, if they play tennis, they grew up playing all their life.
"Here the main sports are football, baseball and basketball. In Europe and South America, we have a lot of tennis courts. We like to play tennis."
Kansas has always had a few international players, but Hall-Holt really made the shift three years ago after her first season as head coach. Courtney Steinbock, KU's no. 1 singles player, was graduating. Kansas went 7-16 during the 2003-2004 season with a team comprised of five Americans and three international players.
Kansas needed to find a strong No. 1 singles player for the 2004-2005 season. With the KU program struggling to bring in the top American players, who usually attend only the top tennis programs like Stanford, Florida or Georgia, Hall-Holt, like many coaches, began to focus her recruiting overseas.
Frank Polito, Hall-Holt's assistant coach at the time, had a connection in Russia and found a potential no. 1, Elizaveta Avdeeva.
¢Avdeeva was a freshman at the University of Moscow. She was practicing tennis every day and playing in tournaments, but not for the school. In Russia, there are not any university-sponsored teams.
One day while practicing in a Moscow facility, she saw a booklet about studying in America and playing sports. She decided to apply.
Avdeeva received interest from several schools. She was leaning toward Saint Mary's College of California, a small Division I school near San Francisco. Then she found out Saint Mary's was going to require her to take a test called the TOEFL (Testing of English as a Foreign Language). Most universities cannot accept athletes from non-English-speaking countries until they score high enough on the TOEFL.
Kansas is one of few schools in the United States that does not have an English proficiency requirement for admission as an undergrad, Chuck Seibel, director of KU's Applied English Center, said. Undergrads are admitted strictly based on their academic records. Because of the Applied English Center, athletes can come to KU and learn English as a second language without taking the TOEFL test.
Avdeeva did not speak any English and knew she would not be able to pass the TOEFL. When she learned that Kansas did not require the test, KU became her first choice.
Before she made her final decision, Hall-Holt asked KU basketball player Sasha Kaun, also a native of Russia, to help translate a phone conversation between the coaching staff and Avdeeva.
"When you in different country, it's kind of hard to pick which state you want to go to," Avdeeva said. "Here, you can just go for visit, but it's hard to fly from Russia to USA to visit."
When Kaun finished translating, Avdeeva asked if she could call him again to talk to him in Russian and ask him about KU.
Kaun agreed and talked to Avdeeva several times before she moved.
"They asked in general, what is KU like?" Kaun said. "The weather and just little things like that. How the school is all the general questions you could possibly imagine when you're coming to a place you don't know much about."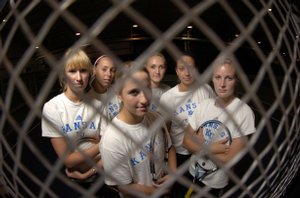 ¢The United States wasn't on Edina Horvath's radar. Horvath, from Budapest, Hungary, was still trying to get back into tennis. She broke her ankle when she was 17 and had to take a year off.
"I wasn't thinking about studying in U.S. because I couldn't speak English," she said.
One day Horvath was talking to a friend and former teammate who was studying in the U.S. at DePaul University and also playing tennis. DePaul did not have any scholarships available, but DU coach Mark Ardizzone was a friend of Hall-Holt and knew that Kansas had a scholarship to give.
Horvath decided to sign with Kansas and a year later Kunigunda Dorn, who had played against Horvath in tournaments since they were 10-year-olds, decided to follow her to Lawrence.
¢Yuliana Svistun wanted to play professional tennis and she was on her way. At age 16, she won the Russian championship in the 18-and-under division.
Svistun started playing tennis when she was 5, with her uncle as her coach. When she was 12, she moved to south Russia, away from her family, to attend a tennis academy. She was home schooled and lived with two girls from the academy.
"We had practice for eight hours a day and some days we didn't have days off, like Sundays," she said.
After Svistun won the championship, she hurt her back. She had to take a year off from tennis and when she started playing again, it took a year to get back in shape.
Svistun's dreams of playing professional tennis were over.
She learned about an opportunity to keep playing tennis by studying in America and immediately decided that was what she wanted to do. She used 4 R Sports to help her get recruited. 4 R Sports is a Russia-based company that helps find colleges for Russian players.
Svistun knew Avdeeva and former KU player Ksenia Bukina from playing against them in junior tournaments, and after several conversations with Avdeeva, Svistun picked KU.
¢"The first half year was horrible," Horvath said. "The worst time of my life because I couldn't speak English and I tried to make friends but it was really hard."
Countered Hall-Holt: "It wasn't that bad."
"It was bad for me," Horvath said, "because it was really hard to make sentence and try to show what I wanted to do or what I wanted. The first half year was bad, bad, bad."
Obviously offended, Avdeeva interrupts, "Just say you were really homesick and struggled with the language, but it wasn't that bad because we were here."
"OK, I didn't mean this," Horvath said laughing.
Horvath may have been exaggerating, but the language barrier is not the only challenge international players face when they arrive in the United States.
Svistun didn't eat anything but Gatorade bars and shakes the first week she was here, because she didn't know what to eat and was afraid to try American food.
In Russia, she was a chatterbox. As the six teammates congregate before practice, Svistun is the quietest one. When she does speak, she speaks softly - almost as though she isn't quite ready to be heard.
"Still I feel like I can't talk the same way as I can speak Russian," she said. "I'm not shy, but my English is not as good so I can talk, talk, talk all the time."
Avdeeva seems the most adjusted and comfortable of the four foreign players, possibly because she's been here the longest. Hall-Holt calls her the big sister figure of the group. But, like her teammates, homesickness hit right away.
"New people and school, practices, workout, everything together was hard to handle, especially when you're so far away from home," she said. "Everybody can support, but it's not your family."
The players also struggled to adjust on the tennis court. For Svistun, it was the first time she had been part of a team, a concept more familiar to Americans than Russians.
"I felt a lot of responsibility, and not just on myself, as I used to feel when I was back home," she said. "It was kind of like a big pressure when I stepped onto the court. I felt like I had to win because of my team. So it made me kind of nervous when I played."
It was also an adjustment for the American players. When Avdeeva first arrived, she played doubles with Lauren Hommell, a junior from Roswell, Ga.
"She knew, like, two words of English," Hommell said. "So after everything we would have to stop and explain it to her and it'd take, like, 30 minutes. Even during matches it was frustrating, I know for me. And I'm sure it was for her, because she didn't understand and she'd get yelled at by the coaches because she didn't understand."
This wasn't what Hommell and Smith signed up for.
"I think it's hard to play on a team where they're so many international players," Smith said. "It's different. It wasn't like that when we first came here. They're your teammates; it doesn't really matter where they're from, but it's hard. It takes getting used to."
¢Hommell knows all too well the impact international players have had on recruiting. While visiting Ole Miss during her senior year of high school, Hommell received a scholarship offer and she immediately verbally agreed to sign with the school and canceled all the other college visits she had planned.
Just before the early signing period, Hommell received a call from the Ole Miss coach. Ole Miss had found a foreign player and decided to sign the foreign player instead of Hommell.
Hommell said her mom panicked. Hommell had to start playing tournaments again and began to e-mail coaches.
"I think it upsets a lot of people because some of these people are counting on tennis scholarships to go to school," Hommell said. "I don't know about Steph but for me, it was expensive to play tennis and spend all that money hoping college is going to be free."
Kansas offered Hommell a scholarship, and even though she wanted to stay in the south, she could not pass up a free education.
"I think it's harder to get a scholarship now because you can get foreigners easily," she said. "It's becoming more difficult for Americans to get a tennis scholarship because you can just go over to Russia or Hungary or wherever and get whoever you want."
At Kansas, Hall-Holt has developed a pipeline in Russia and Hungary that has paid off. Last season, the Jayhawks had their first winning record since 2001-2002. This spring the team has struggled because of injuries, going 4-17, but Avdeeva, Horvath and Dorn hold the top three singles spots on the team and Svistun has the best win-loss record at 15-6.
Next season, Hall-Holt has signed one American player and is trying to fill her final roster spot with another international player. She is looking at several Russians and several players from South America.
Delmagro, who is in his first year at KU as an assistant, is from Argentina. He is trying to create a South American connection to Kansas. He is currently recruiting a player from Chile and another from Argentina, as well as one player from Mexico.
¢The six teammates line up for a team picture. "The highest should be in the back," Horvath said.
Hommell quickly corrects her. "The tallest," she said. It's not in a scolding sort of way, but rather as a favor. They may all come from three different countries, but they only speak one language when they hit the court.
"We set rules," Hommell said. "When you're at practice, you have to speak English."
It's practice for matches as well, when players can be penalized a point for speaking anything but English.
The momentary lapse in word choice by Horvath also shows how far all six players have come. Horvath seems unfazed by her vocabulary faux pas, something that might have bothered her when she first arrived. And Hommell doesn't seem irritated. She was only correcting Horvath like she would any friend.
The four foreign players are no longer outsiders. They eat American food, although they have an odd ketchup and mayonnaise fixation. They put ketchup on their pizza and Horvath smothers everything with mayonnaise, including salad.
"And even candy bars," Svistun jokes.
Svistun's favorite food in America is fettuccini alfredo.
"I like steaks and I like fast food also," she said. "I like Taco Bell, no. 7 - chicken quesadilla."
They also go tanning with their American teammates and whiten their teeth.
"Crest whitestrips," Hommell said as she flashes her pearly whites.
More like this story on KUsports.com