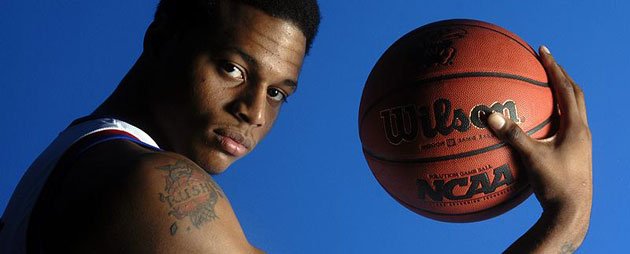 First Julian Wright.
Now Brandon Rush.
Kansas University's sophomore class is dwindling at a rapid rate.
"This doesn't surprise me," KU coach Bill Self said Friday in discussing Rush's decision to copy Wright and enter his name in the 2007 NBA Draft. "Julian is a potential lottery pick. With Brandon, we were hopeful to get one year, two would be a bonus. The only reason we thought we might get three is this is the strongest draft in recent memory."
It's so strong, the 6-foot-6 Rush has decided not to sign with an agent, at least for the time being. That leaves the possibility of Rush withdrawing from the draft by June 18.
Self isn't holding his breath for that to happen.
"Whenever guys declare that are going to be high draft picks or have a great shot to make a roster, I think it's difficult for a lot of those guys to come back," Self said. "That's what Brandon wants to do. We approach it like there is a window for him to come back, but also approach it (like) we need to do whatever we can to help our team next year.
"Nothing would surprise me. I told him if he does this, he needs to go for it. He needs to take that approach. If he does the best job preparing, it will guarantee him a future in the league. I feel my personal opinion is the team we have returning now is our team. Anything else would be a bonus."
Rush - who said he is "ready to take the next step" - would lose his eligibility by negotiating with an agent or accepting money to attend NBA draft camps and individual workouts with teams.
If he hires an agent, it "will be much later in the process," Rush said. "I just want to keep my options open."
Rush pondered his options during a two-plus-hour meeting with Self on Wednesday in the coach's office. At that meeting, Rush told Self he had decided to enter the draft.
Self told Rush to take a day to ponder the facts presented at the meeting, talk with Self again Thursday, then announce a decision Friday. Rush made his decision known Thursday night.
Forty-two underclassmen have declared for the draft; 29 have not hired agents.
"It does not surprise me or disappoint me he put his name in," said Self, who indicated Rush has said he'll finish his semester classes and is "in pretty good shape academically.
"He obviously felt this is what he wanted to do going into the meeting (Wednesday). We talked to Brandon numerous times, and he said he wanted to wait and see who was coming out and see the information. It's been popular for guys to declare and not hire an agent. Brandon probably saw all those guys and said, 'Why not me?'
"This has become the popular thing to do. But it's difficult to go so far and still keep your eligibility. There is a process he has to go through. If you violate it, you lose your eligibility."
Rush can't let an agent pay for his trips to the Orlando draft camp May 29-June 1 or pay for individual trips to NBA cities and workouts with front-office personnel.
"I think he's a roster guy. I never have said he would not be taken in the first round. I told him regardless of what he does, he could make a roster," Self said. "There's a great chance he'll go in the first round if he performs at a level he's capable of performing."
What about Self's returning KU team? Wright will sign with an agent and definitely won't be back, and Rush appears out the door. Those two players accounted for 25.8 points a game.
"We've still got three of the best guards around (Mario Chalmers, Russell Robinson, Sherron Collins) and as good a prospect at the four (Darrell Arthur) as there is anywhere," Self said. "Three other bigs who are real good in Darnell (Jackson), Sasha (Kaun) and Cole (Aldrich). We have role guys, whether Rod (Stewart) or Brady (Morningstar) or Jeremy (Case) or Tyrel (Reed) that I feel one or two of those guys will step up and make us better.
"Some have not had the opportunity because we're pretty loaded in the backcourt. The three on paper returning that have played considerable minutes are as good as anybody. Somebody else will step up, or we'll recruit somebody to fill the void. This gives others a chance to step up."
Self said he had no specific recruits in mind to replace Rush. KU now has one scholarship to give.
"If he made the decision three weeks ago, I think we'd have had a good opportunity to replace him (with a recruit like Alex Legion). If we do replace him, it will not be in the immediate future," Self said.
"We have to do what's best for the program, too. We delayed some recruiting possibilities based on his decision. Now that he's decided, we'll have to scramble around a bit knowing we will not get anything done (recruiting wise) in the near future."
The bottom line is, Self said he's not surprised Rush has chosen the NBA route after two seasons.
"In my mind from a business standpoint, it could go either way. There were pros and cons in both directions, something he'd have to decide," Self said. "There's a list of reasons to return and leave. I don't know if his mind was made up Wednesday or before that because certainly he did not do what we planned all along in making a decision on Friday. He made it Thursday when it was his request to do it Friday, not based on my request."
More like this story on KUsports.com