The shirtless shoulders were turning pink, and it seemed every Kansas State student hanging around had a drink in hand.
The parking lot next to Bill Snyder Family Stadium was full, with music blaring, grills smoking and footballs being thrown around all day.
One would think Nebraska was in town for a huge gridiron tilt.
Not so. It was April.
Instead, the K-State faithful were tailgating all day for the spring game one year ago, a way for Wildcat fans to get their football fix with coach Ron Prince's inaugural season still five months away.
Kansas State, like many other schools, tries to make the spring game a must-see event. Last year's scrimmage was moved to prime time. K-State's baseball team played Kansas University right next door during the day. There was a battle of the bands, a barbecue contest and a carnival midway for fans while the sun was still out.
The day's success was hard to ignore - 31,875 fans showed, including some prized recruits who had to be impressed.
"We made this an unbelievable party," Prince said afterward, "and a game broke out."
It proved just how successful the spring game can be in the Big 12 Conference.
Just down I-70, KU is trying to generate such interest, but the turnout just hasn't been there like at other schools. Sunday, a majority of Memorial Stadium will be inaccessible for this year's scrimmage because the seats won't be needed.
In 2006, an estimated crowd of 5,200 showed up to see the first glimpse of promising freshman quarterback Kerry Meier. The 2005 game had an estimated 3,000 fans in attendance, and that team ended up winning a bowl game.
KU athletic-department officials have noticed and are working toward amending it before Sunday's 3:30 p.m. game at Memorial Stadium.
But they realize they have a long, long way to go.
"The numbers aren't nearly where we want them to be," associate athletic director Jim Marchiony said. "My guess is they really never have been."
Big gap
Kansas certainly isn't alone in struggling to bring fans to the spring game. But the disparity between turnouts among Big 12 schools is staggering.
Seven of the conference schools play their spring games today. Only two have finished their seasons to this point: Texas, which drew 42,500 fans to its scrimmage March 31, and Oklahoma, which had a turnout of 21,020 for its game April 7.
Nebraska is aiming for 60,000-plus fans for its game today. It had 57,415 at last year's game, though fans were turned away because part of the stadium was under construction.
Though Texas, Oklahoma and Nebraska all are top-25 football programs - and Kansas State recently was, too - they're also KU's conference rivals both on the field and in recruiting.
Kansas officials are well aware of the ground they need to try to make up.
"It's similar to the regular season," Marchiony said. "We need to do what we can from an administration standpoint to supplement the efforts of the coaching staff and the players. It's an effort by all of us."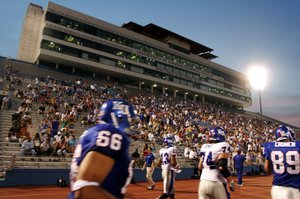 To start, Sunday's spring game will be available on the Jayhawk Radio Network for the first time this year, and increased advertising in local newspapers and Web sites is designed to get the word out. As always, admission is free.
And like every year, KU coach Mark Mangino is working to make his product on the field more appealing. He said there's not much more for him to do.
"I've got all I can do just coaching the football team," Mangino said last month. "Marketing aspects and things like that aren't my cup of tea. I don't think I'm the one who should drive that vehicle.
"But I think that there has been some talk about doing some things to promote the spring game, try to get it more exposure. I think our administration is working on it, but I don't feel that's something I need to drive."
Making it an event
Kansas State coach Prince, however, did feel it was something he needed to drive.
KSU associate athletic director Casey Scott said Prince approached the administration soon after being hired and talked of his vision for making the spring game a big party for K-State supporters. In the past, it was usually just an ordinary day when coach Bill Snyder was in charge.
"Under coach Snyder, we were probably (drawing) anywhere from 12-15,000 or 10-12,000," Scott said. "Coach Prince came to us and clearly let it be known to us that he wanted to make it a major event. He wanted to have the purple nation come together in the spring.
"He utilizes the weekend as a big recruiting weekend, which was important to him. We worked with his staff to develop a special day - not just an intrasquad scrimmage."
In Lawrence, KU had an alumni game before the real game from 2004 to 06, with former players like Dana Stubblefield, Don Davis and Don Fambrough taking part. That was nixed this year in favor of a hot dog tailgate party featuring former players.
Also, there will be more interactive inflatable games for family entertainment, and T-shirts will be passed out to the first 5,000 in attendance. Like in past years, posters and schedule cards will be given away, and one fan will have an opportunity to win a 2007 family-plan season-ticket package.
"As we go on," Marchiony said, "we'll probably add things year by year."
It's crucial. Inter-school competition for the best facilities, the best coaches and, ultimately, the best recruits have proven that there's an edge to be had almost everywhere.
The popularity of the spring game is no longer an exception.
"We have to do our part," Marchiony said. "We can't just sit and assume that even as the program gets better, the people will come.
"There's not the history of people doing that yet, so we have to do what we can to create that."
More like this story on KUsports.com