Sometimes, finding out where to go often means digging into where you've been.
The year was 1991. Mark Mangino dreamed of being a college football coach, but in the meantime was paying his dues at Ellwood City High in Pennsylvania, all the while raising two small children on a limited income.
He wanted more, and he knew an old buddy from his childhood, John Latina, was helping take on a massive overhaul of the Kansas State football program in the Midwest. Mangino had met Latina's boss, Bill Snyder, at a coaching convention a year earlier, and this time Mangino inquired about the possibility of landing a graduate-assistant job in Manhattan, where the pay remained low but the stature skyrocketed.
Latina, K-State's offensive line coach and a New Castle, Pa., native, put in the good word, and Mangino joined the Kansas State program in time for the 1991 season.
In hindsight, Mangino joined a coaching staff that would become extremely decorated as the years passed - and Kansas State's subsequent success was hard proof of the staff's talent. Several coaches from the K-State teams of the early 1990s found great success, including Mangino, now Kansas University's head coach, and Jim Leavitt, South Florida's leader.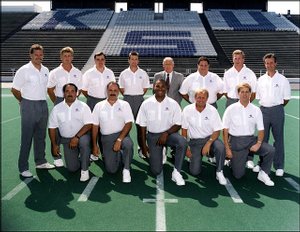 Their two teams will meet today at Memorial Stadium for the first time.
In the trenches with Mangino and Leavitt at KSU were Oklahoma coach Bob Stoops, Arizona coach Mike Stoops, KU offensive coordinator Nick Quartaro and others who have established a footprint in college football today.
The growth of the Kansas State coaching tree is impressive. But it seems none of the branches has really paid much attention to the talent they were surrounded with - at least not yet.
They're too busy - like you'd expect any Snyder protege to be.
"At that time, we all respected one another as good, hard-working football coaches," said Quartaro, who was there 1989-93. "At that time, when you're an assistant trying to get things going in that program, everybody's flying around day to day trying to do their job as best as they can.
"Now, once you removed yourself, like after I left, and had the chance to look back from a different perspective, I had an even greater respect and a greater appreciation for the types of coaches they were."
Planting the tree
The monumental task Snyder assumed is well documented: the worst team in Division I-A college football, zero victories and one tie in the two years before Snyder arrived from Iowa, where he was offensive coordinator.
KU vs. South Florida
Many of Snyder's assistant positions went to guys with Iowa ties like his. Del Miller was his first hire, and Bob Stoops and Quartaro came soon after. All three had spent time at Iowa previously, and later hires like Mike Stoops and Leavitt also had the Hawkeye tie.
The project put in front of the young coaches was enough to make some of them nauseated.
"It was humongous," said Miller, now the offensive coordinator at San Diego State. "I don't know that there could ever be one quite like that."
Snyder, who did not return a phone call seeking comment, has a lasting legacy of long hours of work and preparation fueled by self-motivation and coffee. At least some of that rubbed off onto his assistants, who diligently studied film and broke down opponents long after normal people went home for the night.
Heck, they had to, or they might've been out of a job.
"Very meticulous, very focused," Miller said of Snyder. "I don't think I've ever been around anybody that could stay on task and focused for any period of time like him."
Leavitt joined the staff in 1990, and Mangino caught on a year later, first as a graduate assistant and later as full-time assistant and recruiting coordinator.
Both had energy. Quartaro remembers Leavitt's lunches of a chocolate bar and a giant Pepsi, and stories of Leavitt doing pregame calisthenics and head-butting players with their helmets on are the stuff of legend.
Mangino may not have been so outgoing, but his work ethic was hard to top - perhaps why Snyder was so fond of him.
"I found a very determined, hard-working guy," Quartaro said of Mangino. "He had such a passion to be a college football coach at the major-college level."
Moving on
Like any talented staff needing room to grow, the all-star cast didn't stick around Manhattan forever.
"They were all outstanding assistants, guys with great leadership abilities," Miller said. "They just needed their opportunity."
Eventually, they came. Kansas State's great success in the 1990s - with bowl games and nine- and 10-win seasons becoming the norm - made other programs more than intrigued at the parts that contributed to college football's greatest turnaround.
Bob Stoops left Manhattan to become defensive coordinator at Florida in 1996. When he was named head coach of Oklahoma in 1999, he hired his brother, Mike Stoops, and Mangino from Kansas State to help him.
Leavitt left after the '95 season to build the South Florida program from scratch, a position he still holds. Quartaro became head coach at Fordham, moved on to Iowa State and eventually landed at Kansas. Dana Dimel, a former KSU player, joined the Wildcats staff in 1989 and later became head coach at Wyoming and Houston.
By the numbers
Mangino claims there's "too much made" of the success Snyder's aides later found, though the widespread ascents up the coaching ladder don't lie.
Still, Mangino cherishes his time at Kansas State, not because of where it propelled him and his fellow assistants, but rather what he went through alongside all of his fellow coaches.
"We had a bunch of good guys at K-State, a bunch of good hard-working coaches," Mangino said. "When I look back on those years, I look back with fondness.
"Who would've known that all these guys on one staff at one time or another would become head coaches or coordinators? Who would've thought? We were just trying to get it done. We were just trying to survive."
More like this story on KUsports.com