Oklahoma set the tone against the Kansas University volleyball team early in the first game when both teams' preseason All-Big 12 players met at the net, and OU's Eliane Santos stuffed Emily Brown's shot right back in her face.
"We saw an Oklahoma team that's very deserving," KU coach Ray Bechard said. "(Oklahoma) made very few mistakes."
Oklahoma won, 3-1, Wednesday night in Horejsi Family Athletics Center and took the first two games in commanding fashion, winning 30-23 and 30-19.
In the second game, the Sooners sided out nearly 90 percent of the time. On the brink of being swept by Oklahoma for the second time this year, Bechard gathered his team after that game.
"We've got a lot of people that came to watch you compete," Bechard said. "Is this the visual we want of Kansas volleyball?"
He also emphasized a better serving ace-error ratio, and Brown, who had 12 kills and eight digs, must have listened closely. Her back-to-back aces gave KU an 8-6 lead and energized the team, giving the Jayhawks a lead they would not surrender.
"It started a little something," Brown said. "Everyone served well in that game."
The Jayhawks aggressively attacked each ball. On the point that closed KU's lead to 25-24, freshman Katie Martincich chased a ball and crashed into the media relations table. The thud reverberated around the arena.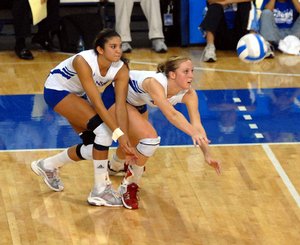 "Tough kid," Bechard said, "she came right back. She's probably got more Jayhawk pride than a lot of folks."
After winning that third game, 30-27, a see-saw game four featured eight ties, but the Sooners made fewer mistakes and pulled out the 30-25 victory.
"They were just a little cleaner than we were," Bechard said.
The victory served as part of Oklahoma's turnaround season. One year after finishing 7-22 overall and 2-18 in the Big 12, the 20th-ranked Sooners are 18-4 and 9-2.
"They lost so many close matches where they went into one of those cycles where they didn't think anything good was gonna happen," Bechard said. "Now I don't think they think they're gonna lose. It's a fragile deal."
Although the 6-foot-2 Santos showed her skills with 12 kills and nine blocks, including the aforementioned one on Brown, Oklahoma displayed a multi-pronged attack. Three other players - Sarah Weiland, Joanna Schmitt and Bridget Laplante - finished with 11 or more kills.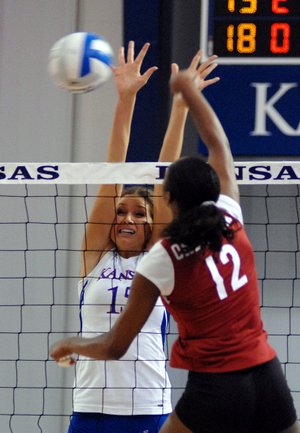 The Jayhawks also displayed balance. Senior Jana Correa had 11 kills and 16 digs, sophomore Savannah Noyes had 10 kills and senior Jamie Mathewson had 14 digs.
Despite a slow start, Brittany Williams was the star for KU with 20 kills.
"Brittany was great after the break," Bechard said. "You saw Brittany look like an All-American tonight, and then she made a couple of plays that made her look like a freshman."
The freshman middle blocker continues to improve, having stepped in for middle blocker Natalie Uhart after the junior transfer tore her anterior cruciate ligament during a preseason alumni scrimmage. But Williams strives for more.
"My grandma always told me if you ever get satisfied," Williams said, "that will be your downfall."
Williams may have to step up her game again Saturday night. KU will play host to Texas Tech (10-10, 3-8), which sits just above KU in the Big 12 standings.
"There will be a sense of urgency Saturday," Bechard said.
More like this story on KUsports.com