Bob Timmons didn't stop working for Kansas University when he stepped down as track/cross country coach in 1988.
He continued to sculpt and beautify Rim Rock Farm, home of the Jayhawk cross country team since 1974.
"It's been a labor of love," Timmons said of manicuring the course, which will be the home of the Big 12 men's and women's cross country championships Friday morning.
"The course is in good shape. We built some extra ponds. Right now, they don't have much water in them with not much rain this year. I think it'll be an exciting place to hold what will be a great meet."
Timmons - he and wife Pat owned the course until donating it to KU Endowment last year - will certainly have plenty of conversations about the tradition-rich course at "An Evening With KU Track Legends and Friends," a fundraiser for the Bert Nash Center, on Nov. 1 in the Holidome.
"Rim Rock is easy to talk about, but not so easy to run," said Timmons, eager to watch KU's Benson Chesang and the Jayhawk men try to unseat perennial power Colorado as league champ in the men's race at 11 a.m. Friday. The women run at 10 a.m.
"The best part about the course is the terrain, with its sprawling hills and valleys, which makes it one of the most unique courses out there."
Timmons, who often can be seen at KU checking out displays at the new Booth Family Hall of Athletics, explained the history of the course.
"The name Rim Rock Farm comes from the three elevations present throughout the acreage," Timmons said. "The rocks bleed out of the hills, forming different rock bluffs and also creating many of the ponds present throughout the course. That's what makes it so exciting and demanding. We are able to interlace the three elevations into the course so that runners have to traverse all sorts of different obstacles. The beauty of it is having so many things to look forward to."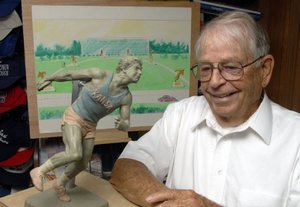 On the course are silhouettes honoring seven legends of Kansas distance running: Glenn Cunningham, Herb Semper, Wes Santee, Allen Frame, Billy Mills, John Lawson and Jim Ryun.
"We have such great tradition at KU thanks to the achievements of Bill Easton's athletes who have been an inspiration for many years. The things those guys did caused some of our guys to become better and better. It's because of the tradition Bill put on KU long before I thought of coming here," said Timmons, who led KU to 13 Big Eight indoor and 14 Big Eight outdoor titles, three NCAA indoor track titles as well as the 1970 NCAA outdoor championship.
He tutored seven Olympians, 16 world-record holders, 77 NCAA All-Americans and 24 NCAA champions.
The list of athletes who competed under Timmons includes Ryun, Cliff Wiley, Karl Salb, Randy Smith, Jeff Buckingham, Deon Hogan, Archie San Romani, Jr., Bill Stone, Dick Utter, Bob Hansen and fellow Kansas Hall of Fame 2001 inductee Jeff Farrell.
He's looking forward to hearing from athletes Ryun, Mills, Santee, Bill Nieder, Theo Hamilton, Tudy Blake, Cliff Wiley and Candace Dunback, who will be speaking at the Bert Nash benefit.
"I think it's wonderful," Timmons said of getting to see so many KU greats in one place. "If you just talk about them and they are not there, it's not the same. To have them in the same room expressing their thoughts and the way they remember things, that is really important."
Timmons coached Olympic distance great Ryun both in high school at Wichita East and at KU. Ryun is serving his fifth term in Congress, representing the Second Congressional District of Kansas.
"In his high school days, that really bothered him a lot. It was kind of unsettling to him," Timmons said of public speaking.
"I felt he did his talking with his legs. He was so self-conscious I didn't think he'd ever be in anything where public speaking was concerned. He expresses himself so well now in a logical way. He always has something interesting to say."
Fellow Olympian Mills, who is renowned for his motivational speaking ability, will forever be remembered for winning the 10,000 meters at the 1964 Summer Games in Tokyo.
"For me there was never anything quite like that," Timmons said. "When he ran in the Games, his time was in the top 20, but closer to 20.
"As the race progressed, you had to wonder, 'What's he doing up there? Will he hold it?' The announcer just lost it. He went crazy (as Mills raced down the stretch). It made some people upset, but what it did is fire up everybody for the Games. It was the first event of the Games and set the stage for everything else. It's the greatest thing that ever could have happened to the Games.
"Billy Mills is so dynamic. He inspires everybody who listens to his story."
Of two-time Olympian Nieder, who won the shot put at the 1960 Games, Timmons said: "I can remember him throwing on the infield at KU and what a spectacular thrower he was. He kind of changed some things with respect to approach across the ring and added to the power of the turn. He was a great competitor."
Santee led the 1953 Jayhawks to the NCAA cross country title. He won two league cross country titles and earned three indoor and outdoor records.
"He had so much self-confidence. He knew he belonged up front," Timmons said. "He may have been one of the greatest relay runners of all time. He loved that. It didn't bother him to come from behind. He used to look forward to that. All the guys on the team knew he was going to come through. He was special."
Blake, the head track coach at Winston-Salem State, still holds KU records in the indoor and outdoor long jump. Dunback, curator of KU's Booth Family Hall of Athletics, is a five-time All American and conference champ in the pentathlon, decathlon and pole vault.
Hamilton, track coach at the University of Missouri-Kansas City, is an NCAA indoor long jump champion. Wiley, a 1980 Olympian, broke the world record in 1977 as a member of the U.S. 400 relay team.
Emcee for the evening will be Tim Weaver, former KU athlete and former meet manager of the Kansas Relays.
More like this story on KUsports.com