During Kansas University's recent men's basketball media day, a glad-handing electronic-media journalist stuck a microphone in Mario Chalmers' grill.
"Mario, Mario, juniors? JUNIORS?" the media guy asked, incredulous. "It seems like you guys were just babies."
Given the way Chalmers finished last season - his freshman year, by the way, making him just a sophomore - it perhaps is easy to see why the throat was confused.
Chalmers, too polite to correct the talking head, rattled off a concise if not especially profound response about being a year older and wiser.
"I know what to expect," he said. "I know how things go. I'm just trying to focus on the season ahead."
The season behind wasn't too shabby.
Though he struggled a bit at the start, the versatile 6-foot-1, 195-pound guard from Anchorage, Alaska, finished with a flourish.
Chalmers scored in double figures in just two of KU's first 11 games, including a one-point, one-assist, six-turnover clunker against California.
But Chalmers - elevated to starter for 21 of the Jayhawks' final 22 games, missing only Senior Night - hit double-digits in 12 of KU's final 13 contests.
As a result: Chalmers ranked second on the team in points per game (11.5 overall, 14.3 in Big 12 Conference games); was named Most Outstanding Player of the Big 12 tournament, where he averaged 16 points, 4.3 rebounds and 5.3 assists in Kansas' run to the championship; and, at year's end, shared the team's Clyde Lovellette Most Improved Player award with classmate Julian Wright.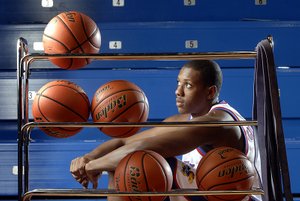 "I struggled a little bit at first," Chalmers said. "I was trying to do too much, playing like I was still in high school. I wasn't letting the game come to me, trying to do too much on my own."
Despite his strong finish, there's no guarantee Chalmers will be as indispensable a part of the KU backcourt this season.
Though KU coach Bill Self has said perimeter players Chalmers, Russell Robinson and Brandon Rush were likely starters, ballyhooed freshman Sherron Collins could figure into the mix.
Not that Chalmers is particularly worried.
"Sherron will get a lot of playing time. It's just like last year, when we had 'Hawk,'" Chalmers said of graduated Jeff Hawkins. "Sherron's just taking Hawk's spot."
To ensure Collins doesn't take Chalmers' spot, Chalmers had a productive offseason, during which he concentrated on boosting his bench press and putting miles in his legs.
"I'm stronger, faster," Chalmers said. "I worked with coaches on defense, sliding my feet. And I worked on my shooting and just general conditioning, making sure I'm in good shape."
One thing he didn't have to work on was his ability to mesh with Robinson in the backcourt. That came naturally enough.
"I think the way we work together should carry over well from last year," Chalmers said. "We're hanging out a lot. We can tell where each other likes to be on the court. We kind of feed off each other."
Self said he thought Chalmers made great strides a year ago and would expect more from him this year.
"He surpassed our expectations to be clutch as a freshman, generate offense and defense," Self said. "He plays at a good speed. Defensively, he has very good hands. If it was up to him, he'd take everybody's ball away every possession. His hands have led to a lot of offense for us.
"He's good at shooting floaters as well as creating for himself and creating for others. He sees the game beyond his years."
Perhaps. But he's a sophomore, not a junior. That's what it says on the official roster, anyway.
More like this story on KUsports.com