When Kansas University football coach Mark Mangino dismissed Monroe Weekley from his team in 2003, the belief remains the coach still knew of no NCAA violations committed in his program months earlier.
That is, until about 10 days later, when athletic director Lew Perkins gave Mangino the heads-up that KU football was about to be investigated.
According to the KU self report, Weekley - who wasn't named - told KU faculty representative Don Green about potential violations committed during his recruitment out of Arizona Western Community College.
That triggered a long investigation that finally concluded Thursday, when the NCAA Committee on Infractions took away three of KU's scholarships for the next two years and upheld a limit on junior-college recruiting that Kansas self-imposed.
Mangino is adamant he knew of no wrongdoing, which has been pointed largely at graduate assistant coaches. Committee chair Gene Marsh, as well as Perkins and KU legal counsel Rick Evrard, say no evidence disagrees with Mangino.
KU's fifth-year coach also said he doesn't think many of Weekley's claims had credibility.
"No I do not," said Mangino, who wouldn't name Weekley specifically. "But I live with the consequences of having recruited people that do not belong at the University of Kansas. That's my responsibility and whatever they say, you have to take them at their face value.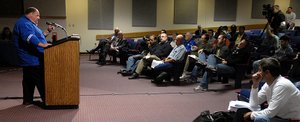 "But me personally? I don't believe a lot of the things that were said (by Weekley)."
That's one opinion. However, in a 2005 interview with the Journal-World, Evrard said of Weekley's claims, "most of what he told us turned out to be pretty accurate."
Whatever Weekley claimed, KU and the NCAA found enough evidence to punish the football program for a wild summer of 2003 that wasn't done without broken rules.
Kansas recruited a dozen junior-college players to help ease the pain of a 2-10 season in '02 in quicker fashion. About seven ended up receiving improper assistance to get eligible during the summer, and two were involved in academic fraud when a graduate assistant gave them test answers.
"Hindsights's always 20-20 vision," Mangino said. "In the summer of 2003, every single junior-college kid we recruited was on track to graduate in May. After many of them already arrived here, we started getting transcripts on a frequent basis with red flags going up that these kids were already here working out that we assumed had finished their coursework for their (associate's) degree did not.
Audio clip
NCAA Division I committee teleconference on KU's violations
"We were stuck here on campus with about six or seven of those guys."
Mangino said the plan was to tell several of the players - who already were moved in - that they had to leave, but then it was learned that correspondence courses could be taken in Lawrence that could make the players eligible.
Of course, several still failed to qualify.
"We didn't plan to bring prospective student-athletes to come here that weren't eligible," Mangino said. "It takes a while for transcripts and those things. It just kind of snowballed and we had kids stuck here on campus."
Mangino said the football program no longer allows anyone to move to Lawrence that isn't eligible, and more education is provided to graduate assistants to prevent something like that from happening again.
As for the punishment, Mangino didn't seem to be too concerned with it. He said that since arriving at KU, the coaches have used about 21.4 scholarships per year anyway, so a 22-grant limit isn't too severe.
Kansas only has about 78 or 79 scholarships filled currently, and has never been above 80. Football is allowed 85 scholarships by NCAA rules.
"When you're trying to get a program that's been down a little bit up on its feet," Mangino said, "you've got to be selective."