In studying Kansas University's star-studded men's basketball roster, Big 12 Conference coaches simply couldn't decide which player was best.
So the coaches Wednesday tapped sophomores Brandon Rush and Julian Wright co-conference players of the year - the first time in league history more than one player was accorded the honor. They are the first players other than juniors and seniors to claim the preseason prize.
"It's good to share," Rush said Wednesday night before a Late Night in the Phog dance practice with KU's cheerleaders. "There's not as much pressure on me as if I won it by myself."
Both Rush and Wright - who were joined on the preseason all-league team by Texas A&M;'s Acie Law and Joseph Jones, Colorado's Richard Roby and Texas Tech's Jarrius Jackson - admitted the honor comes with heat.
"I think it adds a lot more pressure. People expect so much from us and being ranked so high as a team, too," Rush said of the Jayhawks, in everybody's preseason top five nationally.
"Last year we were the hunter. Now we are the hunted. It's a different thing this year," Wright said. "It's something we'll have to deal with."
A third KU sophomore - Mario Chalmers - earned preseason honorable-mention honors with Oklahoma State's Mario Boggan and JamesOn Curry, Kansas State's Cartier Martin and preseason freshman of the year Kevin Durant of Texas. Texas Tech's Charles Burgess was chosen as preseason newcomer of the year.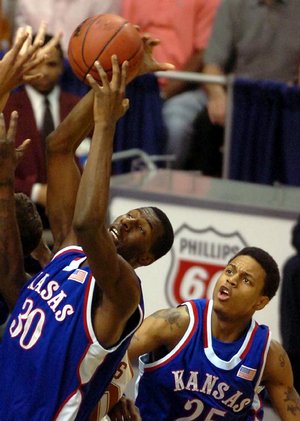 "I think it's a great honor, but anybody on our team could have been co-player of the year," said Rush, who averaged 13.5 points and 5.9 rebounds as a rookie. "It's a great honor for Kansas. I think me and Julian had a great end of our freshman year. I'm guessing it's why we got picked."
Wright, who averaged 8.5 points per game as a freshman, was honored to be mentioned in the same breath as Rush.
"Based on what Brandon has done, I figured he'd be up there. I was kind of surprised being up there," Wright said. "I didn't have eye-popping numbers in conference games or outside the conference. It's an honor to see the coaches see exactly what I'm doing to help the team other than statistics-wise.
"I want to hopefully get honors this year by doing things off the stat sheet, being a leader, intangibles."
Big 12 coaches could not vote for their own players.
"Brandon had a great freshman year and Julian a great end to his freshman year. I think you could also make a case for Mario. He was playing as well as anybody in our league with the exception of just a couple of guys at the end of last year," KU coach Bill Self said.
"I'm excited for those guys. Hopefully they understand, and I believe they do, it's a nice preseason award. It means a lot more if you collect hardware at the end. I think because of the team, guys get a lot of attention and notoriety. The play of the team is why individual honors come."
Self said the players would have to shrug off preseason accolades to be an outstanding team.
Big 12 coaches awards
Preseason Players of the Year Brandon Rush, Kansas, G, So., 6-6, 212, Kansas City, Mo. Julian Wright, Kansas, F, So., 6-8, 218, Chicago Heights, Ill. Preseason Newcomer of the Year Charles Burgess, Texas Tech, G, Jr., 6-1, 190, New York, N.Y. Preseason Freshman of the Year Kevin Durant, Texas, F, Fr., 6-9, 225, Suitland, Md. 2006-07 Preseason All-Big 12 Team Richard Roby, Colorado, G, 6-6, 205, Jr., San Bernardino, Calif. Brandon Rush, Kansas, G, 6-6, 212, So., Kansas City, Mo. Julian Wright, Kansas, F, 6-8, 218, So., Chicago Heights, Ill. Acie Law, Texas A&M;, G, 6-3, 195, Sr., Dallas, Texas Joseph Jones, Texas A&M;, F, 6-9, 250, Jr., Normangee, Texas Jarrius Jackson, Texas Tech, G, 6-1, 185, Sr., Monroe, La. Honorable Mention Mario Chalmers, Kansas; Cartier Martin, Kansas State; Mario Boggan, Oklahoma State; JamesOn Curry, Oklahoma State; Kevin Durant, Texas
"If they believe what people say, we won't come close to realizing our goals," Self said. "The only thing that matters is what we think and teammates think. They've got to keep others' thoughts out. They will be bombarded in the next few months, talk from friends, to students, to family, to media, to runners, to agents. There will be a lot of people trying to get to them. If they buy into what everybody else is telling them, it (success) probably won't happen. Individual awards occur when your team is really good. Very rarely do they occur when your team is not good."
¢
Voting tidbits: Self did not wish to reveal his pick for player of the year, which was recorded by secret ballot. He did say, "Everybody voted for Durant freshman of the year. You can bet some people had him on their all-league team, too." : Rush said if he couldn't tap a Jayhawk, he likely would pick Tech's Jackson as player of the year. : Rush's brother, Kareem, was preseason player of the year before the 2001-2002 season. Drew Gooden won postseason player of the year that season. "I hope to do better," Rush said with a grin. : Wright was named preseason freshman of the year last year. Rush earned the top freshman honor following the season. : KU's Raef LaFrentz and Wayne Simien also won preseason freshman of the year awards.
¢
Miles headed to France: Former KU guard Aaron Miles will play pro basketball in Pau, France, this season, in France's top league. An ankle sprain caused him to fail a physical prior to the start of Portland TrailBlazers camp. The NBA team did not tender him a contract because of the injury.
¢
Late Night available on Web: KU has announced it will stream Friday's Late Night in the Phog for free on AT&T; Jayhawk All-Access located on kuathletics.com. The event will start at 6:45 p.m. and will feature performances and scrimmages from the men's and women's teams. Admission is free. Doors open at 6 p.m.
¢
Ticket donation: Former KU guard Kirk Hinrich of the Chicago Bulls has purchased 100 tickets and donated them to the Boys & Girls Club of Lawrence for the Bulls-Sonics exhibition game at 1 p.m. Sunday at Allen Fieldhouse.