Bob and Julie Luce weren't about to let a four-hour snow delay in Chicago ruin their streak.
The couple had a flight in October scheduled from Columbia, S.C., to Kansas City, Mo., with a layover in Chicago. They had to get to Lawrence for an important event.
"We haven't missed a Late Night in 18 years," Julie, 59, said.
But the snow was so bad in Chicago that the airline canceled their flight. To make matters worse, a later flight had about 70 people standing by - good luck finding a seat.
So Bob and Julie made alternate, more adventurous plans. They took a flight to Denver, then continued to Wichita.
"We then drove a car up to the Kansas City airport, turned it in, and then we had our car parked in the parking lot, so we came back down here," Bob, 68, said. "But we made it."
That's putting it mildly, considering they originally were scheduled to arrive in Lawrence at 1:30 p.m. Oct. 12. The clock read 6 a.m. the next day when they finally arrived. Thankfully, they had a few hours to rest before Late Night in the Phog - the start of Kansas University's basketball season - tipped off at 7 p.m. Oct. 13.
Home on the road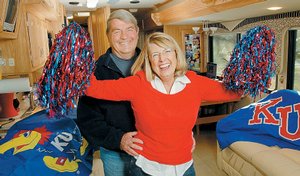 Most Kansas University sports fans primarily support the men's basketball and football teams. For three years, the Luces have made it a priority to attend nearly every KU home game, regardless of the sport.
The Luces, who reside in South Carolina, make their way to the Sunflower State for six months out of the year. At the beginning of each football season they drive a white motor home, called Alfa, 16 hours from South Carolina to the KOA Campgrounds in Lawrence.
Bob said the motor home was considered a motor home/RV, but you might as well make an "MTV Cribs" episode out of the living quarters.
The white RV, which is 8 1/2 feet wide and 13 feet, 3 inches tall, has white, maroon and gold patterns along the sides. It doesn't look like much from the outside, until you walk in and notice leather seats, an expandable unit that turns into a hallway and two computers with wireless Internet capabilities.
The motor home will remain in Lawrence until March. The Luces don't live in it continually, but they do visit it often as they commute back and forth to South Carolina.
Bob mentioned three primary reasons why he and his wife of 21 years come to Jayhawk land so often.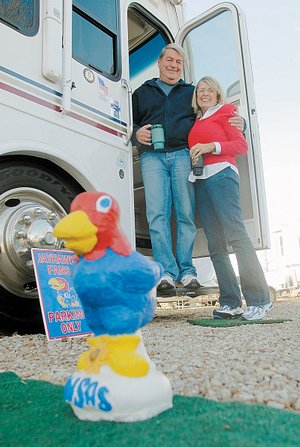 "Well, we're three-quarters retired right now," Bob said about his ownership of the Law Offices of Robert L. Luce. "So we have time. We have a daughter who is a flight attendant for United, so we get to fly on standby. Then, when they changed the ticket policy here three years ago with regard to basketball, it made it so we could get season tickets."
Serendipity
Bob was a Jayhawk fan from his days growing up in Ottawa. He attended KU and graduated with a law degree in 1963.
Julie grew up in Los Angeles and attended the University of Denver, where she studied sociology and psychology. She said she became a KU fan after watching and attending games with her husband.
Being from different areas of the country, their first meeting in December 1979 was a simple coincidence.
"We met in Connecticut, which makes it even more complicated," Bob said. "I was the general counsel for a company in Darien, Connecticut, and she was working for the travel agency that did the travel for us."
Julie, as well, vividly remembers meeting Bob.
"He came in my office to book flights. And I had just come back from training in Dallas. But he wanted to look in the airline guide. He didn't want anything on my computer, and I had all of this new stuff that I learned," Julie said, laughing.
Jayhawk pride
It's relatively simple to spot the Luces' motor home. They proudly display a "Jayhawk Fans Only" parking sign and a small Jayhawk statue in front of the motor home. The inside of the RV contains several KU banners and flags.
"And there isn't much Kansas attire that we don't have," Bob said.
Although Bob and Julie are equally zealous, they show their passion for the Jayhawks in different ways.
"I had to take throat lozenges for the Arizona game," Julie said of KU's 2003 NCAA Tournament victory. "I have lost my voice more than once. I've got the thing sort of perfected where I can do it without losing my voice. But at the last Colorado football game, I had trouble. At one point, I opened my mouth to scream and nothing came out."
Bob, on the other hand, is more reserved when supporting the Jayhawks.
"Julie will rival the students as far as enthusiasm," Bob said. "I'm a little bit more laid back. She gets me to jump up and down sometimes by nudging me. I'm enthusiastic, too, but in my own way."
Bob and Julie said it is convenient for them to come to Lawrence, even when they need to get work done for the law office. Julie, who works as the office manager, said the computer enabled them to work on the road.
So the Luces expect to be around Lawrence for a while, whether at KU games or Free State Brewing Co., their restaurant of choice.
"We're going to do this for as long as we can," Bob said.
More like this story on KUsports.com