Mark Mangino compared the level of play to Class 2A high school football in Kansas.
Mangino, Kansas University's football coach, liked Jon Cornish on tape, but the competition in British Columbia was just no standard by which to scout.
It was late 2001. Cornish just completed a massive senior season playing running back and linebacker for Saint Thomas More Prep in New Westminster, B.C.
At the urging of a television correspondent who covered Cornish, the Canadian standout sent his highlight video to about 20 NCAA schools in the United States, hoping for a chance at big-time college football.
The tape - complete with techno music in the background - was well received, Cornish said. But the offers were scattered and scarce, and, for the most part, centralized in the Northwest.
Down in Lawrence, though, KU coaches were intrigued. So assistant Brandon Blaney traveled to Canada after football season already was over just to meet Cornish, check out his physical stature and see if his character was worthy of a scholarship.
"You want to see what makes a kid tick," Blaney said. "You want to get to know the person. If they're not a quality person, you don't want them in your organization, obviously."
Cornish passed the test, as anyone who knows him would expect. After getting the offer, Cornish accepted, signed and moved to Lawrence in 2002.
KU coaches never saw him play in person. Never saw film of him playing quality competition.
"The more you watched him, though : " Mangino said. "Speed is speed. Size is size."
It's certainly no ordinary rise to the top, but Cornish enters today's game at Missouri just 112 rushing yards from becoming KU's single-season record holder. He's all but a lock to lead the Big 12 in rushing yards, is expected to earn All-Big 12 honors and will have the chance to play professionally in either the NFL or CFL next year.
Cornish had one rushing attempt his red-shirt freshman year. None his sophomore season. It was during that time that the 6-foot, 210-pounder was figuring out American football, the seriousness of it and the commitment it takes to roll consistently with guys similar in athleticism.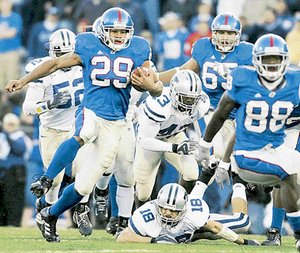 He was way behind at one point. But he has shot past most of his peers.
"I wanted to compete with these guys," Cornish now says. "I wanted to not be considered a Canadian. I wanted to be considered another athlete.
"A great athlete."
Big goals
Leave it to trash-talking KU cornerback Aqib Talib to send some tough love to Cornish, whom he affectionately calls "Corn Dog."
After disclosing Cornish's addiction to the video game "Tetris," Talib was asked how many yards he would have if he were KU's running back instead of Cornish.
"How many does Jon have?" Talib asked.
On 235 carries, Cornish has 1,331 yards this season.
"I'd have 1,400," Talib quipped.
In all seriousness, Talib called Cornish "the best running back I've played with," a claim several of the Jayhawks surely would agree with.
Before the season, Cornish crunched the numbers of his 780-yard effort in 2005, scouted his offensive line and determined he should have a shot at hitting 1,500 rushing yards in '06.
Never shy, Cornish made himself own up to it, too. He claimed that 1,000 yards "would be somewhat of a disappointment" to the media when questioned about goals during spring practices.
"Jon's one of those calculated people," center David Ochoa said. "A lot of times it may seem like he says things straight from the heart. But everything is straight from his mind. If he didn't think he'd get 1,500 yards, he never would've said it. That's the kind of person he is."
Truth is, Cornish said he pondered the goal long before he was ever a featured running back. He was buried on the depth behind Clark Green and John Randle his first two years and even was moved to defense briefly in the spring of 2005. After three weeks and the realization that KU's linebacker corps was rock-solid heading into the '05 season, Cornish moved back to offense.
"At one time, we felt maybe he just needed to get a perspective because of the type of competition he came from," Mangino said. "To see what people on the other side of the ball are doing and how they approach it in terms of what they see in offensive players."
Playing time on offense surfaced when Randle was dismissed from the team that spring. In his first significant action in the backfield, Cornish rushed 10 times for 103 yards in the 2005 season opener against Florida Atlantic.
A star, at long last, was born.
"Jon is a guy we always knew had the ability," Mangino said. "As soon as he got into the groove and really understood how we do it in Division I football at this level of competition, we knew he would be good.
"There was no question he had the physical attributes."
Bright future
Cornish isn't your typical jock off the field, either.
Aspiring to be a doctor when he first enrolled at KU, Cornish wasn't taken by medicine. He on pace to receive his degree in psychology and wants to continue his education to be a counselor psychologist or a clinical psychologist.
Yeah. Not your average meathead, is he?
"He's his own person," Talib said. "You'll never meet anyone like Jon."
But Cornish hopes his psychology ambitions are sidetracked by a professional football career. He already has been drafted by the Calgary Stampede of the CFL, which allows Canadian-born players to be selected after their junior year of college whether they've declared to go pro or not.
Calgary has his rights, and unless it relinquishes them, that will be Cornish's first CFL team if ever he plays there. But he's not interested quite yet.
"Playing in the NFL would be a great opportunity," Cornish said. "I want to do both, really. I'd like to play a nice long NFL career, and then go up to Canada and play in that league."
He might get that chance. Before defining himself as a running back, Cornish spent three seasons as one of KU's top special-teams talents. That alone should make him a lower risk for NFL teams.
"Even if my running-back career in the NFL doesn't work," Cornish said, "I feel like I can play special teams successfully."
Whatever happens, this story is bound to have a happy ending, simply because Cornish has prepared himself for it from every angle. He'll have a degree, an opportunity to get another, career goals without football and cracks to have a career in football with two different leagues.
But first thing's first - a legacy to finish writing at Kansas. He's a solid game behind Tony Sands' single-season mark. He wants to be part of the first KU teams to go to back-to-back bowls.
More than anything, though, you get the sense Cornish just wants to be remembered in a positive way. And that, perhaps, already has been taken care of.
"Jon's a success story," Mangino said. "No matter how you slice it. No matter how you look at it."
More like this story on KUsports.com