His father wanted him to go to law school, but after a year of that, Bob Davis knew it wasn't for him. He knew he wanted to become a sportscaster.
And that wasn't all he knew. He knew that once he landed his first job, in Hays, he wasn't going to be there for long. No sir, he had ambitions for brighter lights than that, and he didn't want them tomorrow. He wanted them yesterday.
When the established voice of Hays athletics, Gene Cummings, started a broadcast by saying, "This is our seventh year broadcasting Fort Hays football," Davis made a prediction to himself that he was certain would be accurate.
"I was thinking: I'm not going to be here for seven years," Davis said. "I was there 16 years, so I was right. I wasn't there seven years."
It's that sort of self-deprecating humor that makes Davis so well liked among his peers.
A quick check of the Davis family tree indicates he was destined to cover baseball. His father, Les Davis, was a sports writer who covered Mickey Mantle when he was playing for his first minor-league team, the Independence Yankees.
Les spent "a year or two broadcasting junior-college games in Independence" and was overseas, serving his country in World War II when Bob was born. When Les returned, he sold shoes, then got into the insurance business.
Go back one more generation on the Davis family tree, and it seems Bob was destined to work games in Allen Fieldhouse. His grandfather, Edwin Davis, was a carpenter from Iola. He helped to build the Fieldhouse, Bob said.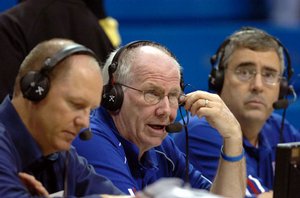 So which is it for Bob, baseball or basketball? Both, of course, and football as well. He's the hardest-working man in show business, calling more than 110 Kansas City Royals games as well as KU football and basketball games. He gave up his gig as the KMBZ radio morning sports guy a couple of years ago. Back then, it was common for Davis to get home from a Royals game in time to be asleep by midnight, so that he could be awakened by the 3 a.m. alarm clock.
Even by Davis' standards, Saturday will be a busy day. He'll call the KU-Missouri football game, be whisked to the airport in Columbia, Mo., along with athletics director Lew Perkins, equipment manager Larry Hare and former broadcaster partner Max Falkenstein. They'll board the university airplane and fly to Las Vegas. Davis will be courtside, calling all the action in the KU-Florida game. He couldn't have done the daily double via commercial flights.
Davis isn't ashamed to acknowledge he's hoping for a pair of upsets on Saturday.
"One thing about play by play," Davis said. "There are about as many different ways to do it as there are people doing it. There are big homers. There are neutral guys. There are bland, stay-down-the middle guys. There are wildly enthusiastic guys. I think you have to be yourself, be who you are, but you've got to really love it, and you've got to have a feel for who your audience is. Doing a KU game, a big lion's share of my audience is going to be KU fans. It's the Jayhawk Radio Network. It's not a neutral, CBS national broadcast, so it's OK and it's good if KU wins.
"There's a difference between being biased and impartial. You have to be an impartial reporter, but it's OK to be happy. In sportscasting, you are both a reporter and an entertainer. I'm reporting about a game, but it's also fun. For the listener, it's their fun."
Davis lives in Lawrence with wife, Linda, and their son, Steven, when Steven is not off calling games for the Idaho Falls Royals, a short-season Class A team. Steven worked as a KU basketball manager for two years under Roy Williams and two under Bill Self. Bob's father also lives in Lawrence, at Pioneer Ridge.
"His blood pressure's better than mine," Davis said. "And he's always cheerful and upbeat."
So is Bob Davis, 62 and a graduate of Washburn University. Born in Iola, Davis also lived in Independence, Manhattan and Topeka before getting his first break calling high school and college games in Hays.
Davis recently was inducted into the Kansas Association of Broadcasters Hall of Fame. Thus far, the honor hasn't made the down-home Davis conceited.
"(Late, great) Will Grimsley was named national sports writer of the year and he told me once: 'You think this is a great achievement and you get kind of full of yourself. I was flying first class and the flight attendant looked at me and said, 'Sir, I think I know who you are.' My head kind of swelled up and I asked her who she thought I was. She said: 'Are you Captain Kangaroo?' ''
The flight remained in the air, but Grimsley was brought right back down to earth.
Davis doesn't fancy himself a celebrity, but ask him for the best advice for how to do play by play, and he'll offer a response.
"You have to hook your eyes and your mouth up together and eliminate your brain," he said.
So far, the recurring nightmare that haunted Davis back when he was learning his trade in Hays hasn't come to life.
"I used to have it every year, before the first football game of the year," Davis remembered. "The game had started, they kicked off, and I couldn't think of anything to say."
The seasons change, and so do Davis' partners, from Paul Splittorff to David Lawrence to Chris Piper, but the lead voice remains the same, equal parts descriptive and enthusiastic. Davis will call an opening kickoff in the Midwest and an opening tip two time zones away, all in one day. He'll think of something to say, or rather, say something without even thinking about it. Remember, eliminate your brain.
More like this story on KUsports.com