The Nebraska University volleyball team demonstrated why it owns the No.1 ranking in the nation, soundly sweeping Kansas University (30-16, 30-16, 30-20).
"You're seeing a potential championship team," KU coach Ray Bechard said. "Right now they've got a great shot."
Wednesday's match also served as the last game in the Horesji Family Athletic Center for KU seniors Jana Correa, Megan Hill, Jamie Mathewson, Linsey Morningstar and Dani Wittman.
While Bechard admitted the season has ended on a sour note for Kansas (10-18, 3-16), he praised the contributions of his five seniors.
"They're as good a kids as you can be around," Bechard said. "They've been to three NCAA Tournaments."
To commemorate senior night, each of the seniors spoke, thanking fans, teammates, coaches, tutors and professors, among others, after the game. Although she paused once to regain her composure, Correa was the only senior to make it through her entire speech without tearing up.
"I told myself, 'I'm not going to cry,'" said Correa, who led KU with 13 kills. "I don't like to show my emotions very much, but I'm crying on the inside."
KU's loss extended two streaks - one notorious and one dubious. Kansas lost its ninth match in a row. The Jayhawks also may or may not have continued its winless streak against Nebraska.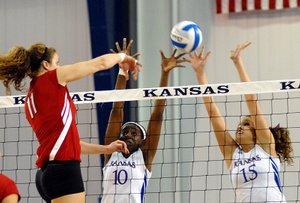 According to KU records, Nebraska leads the all-time series 76-1-1, but Nebraska claims to have never lost to KU. The dispute centers on an Oct. 17, 1975, game at Graceland College.
Nebraska (26-1, 18-1) has lost only five Big 12 Conference games in seven years. All-American junior Sarah Pavin, a 6-foot-5 outside hitter who had 12 kills, anchors the current squad.
"She's an attacker all the time," said Matheweson, who led KU with 12 digs. "She can attack from the front row, and they have her as a weapon in the back row."
Senior Dani Busboom had 18 digs, and Jordan Larson led the team with 13 kills. Larson notched two aces, and her serves resembled a Nolan Ryan heater.
"She has such a fast arm," Correa said. "You cannot tell where the ball is going to go. Sometimes you think it's going to go to your left, and it goes to your right."
On the Kansas side, Emily Brown, a preseason All-Big 12 selection, had seven kills, gutting out her performance despite an injured foot. After the game, she left the locker room wearing a walking boot.
"She hasn't been able to take a lot of reps in practice," Bechard said. "She's not near full speed, but she's a competitor. So she's going to go as hard as she can, as long as she can."
Brown will lead the Jayhawks in their last game of the season Saturday at Kansas State (10-18, 3-16) Saturday. The loser will finish last in the Big 12.
"Both teams are trying to find a way to end this thing on a positive note," Bechard said.
More like this story on KUsports.com