In the second game of Kansas University's volleyball match Saturday night, Savannah Noyes bounced the game-winning shot off a Missouri player's outstretched arms. Most of the 1,203 fans in the Horejsi Family Athletic Center made their voices reverberate throughout the building.
The only problem was Game Two was the only one in which the crowd received a happy ending. Kansas lost to Missouri in four games, 30-24, 28-30, 32-30, 30-21.
An unpleasant pattern has plagued the Jayhawks for weeks now. Saturday marked the eighth straight match Kansas (10-17 overall, 3-15 Big 12) lost. Before Game Two, the Jayhawks hadn't won a single game since Oct. 28.
"We knew that we weren't going to the tournament, like, two weeks ago," senior outside hitter Jana Correa said of the NCAA Tournament, which opens Nov. 30. "Right now, we're just trying to enjoy ourselves, especially the seniors, because some of us will never have the chance to play again in college."
Missouri established an early lead in Game One when it went ahead 11-4. KU senior Emily Brown produced the loudest crowd outburst of the night when she dove after one of fellow teammate Katie Martincich's digs. The dig went toward the back wall and was heading well out of bounds, until Brown laid out and somehow pounded the ball behind her head and over the net.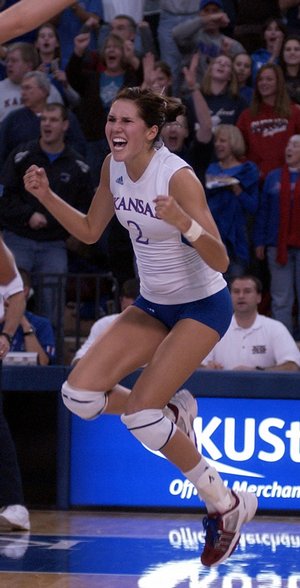 "I said before the match, 'Guys, it's Missouri, and it's the Border Showdown, but at the end of this match, we have to be able to look at each other in the eye and say we played hard and gave great effort.' And we did," KU coach Ray Bechard said.
Brown's aforementioned hustle was a prime example of how it has been going for the Jayhawks lately. Missouri didn't miss a beat on the play, retrieved Brown's save and notched a point on the next sequence.
After the Jayhawks tied the match at a game apiece, they forced a lengthy third game that the Tigers barely escaped. It was evident the hard-fought Game Three took most of KU's energy and momentum away. Missouri virtually had Game Four on cruise control.
"You look at a 2-hour, 5-minute match, I thought that an hour and 50 minutes of that was good volleyball," Bechard said about KU's Game Four letdown. "We had three or four hitting errors in a row, which were unforced."
Freshman Brittany Williams and senior Megan Hill led the way for Kansas with 15 kills each. Missouri's Jessica Vander Kooi and Na Yang led all players with 17 kills apiece.
It won't get any easier for KU. The Jayhawks will play host to top-ranked Nebraska on Wednesday.
"That's not ideal, is it?" Bechard said. "But such is the league we play in. It is what it is, and if you begin to dwell on that, I think you lose sight of some of the opportunities ahead of you."
Nebraska swept Kansas on Sept. 13 in Lincoln, Neb. The Cornhuskers boast a 24-1 overall record and a 16-1 mark in Big 12 play.
Wednesday's game will be especially meaningful for Hill, a Lincoln native.
"I am so excited for Senior Night," Hill said. "Colorado proved that Nebraska can be beaten. I think with the way we competed tonight, we definitely got better. We'll give Nebraska a run for its money."
More like this story on KUsports.com