Kansas University senior Matt French plans to bring shaving cream, razor and a healthy supply of blades to Monday's NCAA cross country championships in Terre Haute, Ind.
He and his bearded brigade of teammates have some close-cropping to do immediately after running in the 10K nationals, which will start at 12:15 p.m. at LaVern Gibson Championship Course located at the Wabash Valley Family Sports Center.
"I just told my roommate I needed his beard trimmer," French said Friday before leaving for Indiana. "It's coming off after the race. I think the others will do the same. I think we're sick of 'em."
In a sign of team unity - and perhaps as a ploy to scare the competition? - last year's Big 12 individual champion Benson Chesang and his teammates agreed in late September to skip shaving until attaining their school's first top-10 finish at NCAAs since 1989. The Jayhawks placed 12th a year ago.
"It was my idea. They look like men now, not boys," Chesang said, pointing in the direction of KU's NCAA-bound crew of seniors French, Colby Wissel, Eric Sloan and Tyler Kelly, as well as juniors Paul Hefferon and Pat McGowan. Alternate is freshman Bret Imgrund, who is also bearded.
"The girls love the beard," French said. "You like the beard?" he yelled in the direction of a female cross country teammate, who jokingly nodded her approval.
"I think as a team we're really close. We are all each others' best friends and decided to do this as a team."
"Team bonding," Imgrund indicated.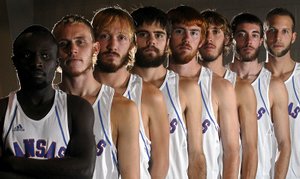 The players like to kid each other about their beards.
"I can't even look at you," French barked at 2006 Big 12 individual CC champ Wissel. "There's so much power (in beard). It's like the sun."
Elk Creek, Neb., native Wissel admits his beard has "gotten a little out of hand. I've grown it out a bit. It's ugly. Hopefully it'll at least keep me warm in Terre Haute."
Full of team unity, the Jayhawks believe they can accomplish great things Monday at nationals. KU last placed ninth or better in 1965 when Bill Easton's Jayhawks notched sixth.
"I think a top-10 finish is reasonable," said Wissel, eighth at the regional championships in Minneapolis for the Jayhawks, who qualified as a team for NCAAs by placing second.
"We've got a veteran team, one that hasn't overlooked any other meets, but has had high expectations, high goals this year."
There is a way for KU to finish in the top 10.
"Hopefully, if we get three in the top 40 and the other two (scorers) in the top 100, that would put us in the top ten," KU coach Stanley Redwine said. "The plan is to peak at NCAAs and have great performances there."
Wissel hopes to be one of the first 30 U.S. runners to cross the finish line, assuring All-America honors.
"I wasn't to put myself in position for that, (but) I will not go crazy going for it. First and foremost is to help the team," Wissel said.
He gave an honest answer when asked what it would take for the Jayhawks to shock favorites Wisconsin, Colorado and Arkansas and win the NCAA team title.
"More than we've got. It's not reasonable to think we can win it," he said.
Former Blue Valley West standout Hefferon is hoping for a monumental day.
"We have the greatest tradition in the country here with (Jim) Ryun, (Glenn) Cunningham and (Wes) Santee," Hefferon said. "Colby and I and Benson can leave our names hopefully as guys who will be talked about years and years from now. It would be a pleasure bringing something back to the alumni and fans of our cross country team."
KU's women's team did not qualify for the meet.
More like this story on KUsports.com