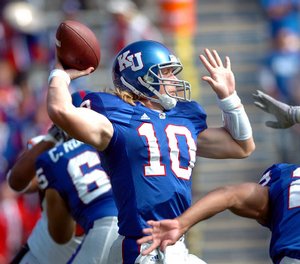 Kansas University quarterback Kerry Meier had a bad day at Toledo two months ago. He'll tell you that.
Meier threw four interceptions and tried to play through a shoulder injury that ended up sidelining him for the next three games. Kansas lost in double overtime, 37-31, in what may be the most devastating loss in a season full of them.
But think about Meier's efforts since. He's played three games, all in Big 12 Conference play. Were any of them lackluster performances?
Meier certainly makes the debate interesting when figuring out who holds the edge between KU's pass offense and Kansas State's pass defense. Truth is, since the Toledo game on Sept. 15, Meier's been a very good quarterback for the Jayhawks.
In the three conference games Meier's played in, he's thrown seven touchdowns and just one interception. He's finding a lot of different receivers. And he's kept the starting job despite big efforts from Adam Barmann at Nebraska and Todd Reesing against Colorado, both of which fueled what could have been a legitimate quarterback controversy.
So are Meier and his receivers good enough to be KU's key to victory Saturday?
KU is 49th in Division I-A in pass offense, putting the Jayhawks in the top half of college football. On the flip side, K-State's pass defense is 64th.
Audio clips
2006 November 11 Football presser
Kansas State, though, has had excellent days defending the pass. Marshall had 92 passing yards against the Wildcats. Louisville had just 173. Oklahoma State had 138. Nebraska compiled just 166.
The 38 sacks managed by the front seven have a lot to do with it. Players like Ian Campbell and Rob Jackson are making it hard for an opposing quarterback to have a ton of time to find an open target.
Overall, the Wildcats have held opponents to 198.6 passing yards per game, fifth-best in the Big 12 Conference. But they have just eight interceptions, better than only Texas A&M; and lowly Iowa State.
Either side emerging as a clear favorite here? We don't think so either.
Call this battle a toss-up, with Kansas State getting the microscopic edge for being more consistent. Also consider this: an even-steven matchup often means that the offense can't overdo that route if it wants consistent success.
Kansas probably will have to find other ways. Think 1,000-yard running back Jon Cornish.
Lowdown on the Showdown
It's expected to be one of the best Sunflower Showdowns in years. And all this week, the Journal-World will analyze the Kansas-Kansas State game by focusing on how specific matchups could play out on the field. Tuesday: Kansas run offense vs. K-State run defense. Today: Kansas pass offense vs. K-State pass defense. Thursday: Kansas run defense vs. K-State run offense. Friday: Kansas pass defense vs. K-State pass offense.
More like this story on KUsports.com