Lowdown on the Showdown
It's expected to be one of the best Sunflower Showdowns in years. And for the next four days, the Journal-World will analyze the Kansas-Kansas State game by focusing on how specific matchups could play out on the field. Today: Kansas run offense vs. K-State run defense. Wednesday: Kansas pass offense vs. K-State pass defense. Thursday: Kansas run defense vs. K-State run offense. Friday: Kansas pass defense vs. K-State pass offense.
The option read has been noticeably efficient for Kansas University's football team this season.
Big and fast KU quarterback Kerry Meier often takes the snap and sticks the ball in running back Jon Cornish's gut. Based on what Meier recognizes from the opposing defense before the snap or as the play starts to unfold, he then chooses to keep it in Cornish's possession or rip it away, swing out and run it himself.
Coupled with Cornish's success alone, KU's run offense holds the edge against Kansas State's run defense Saturday, when the teams meet at Memorial Stadium in an anticipated in-state battle.
Not to say this is an easy argument. But if Meier and Cornish are clicking with the read, and Cornish is clicking period, this is a matchup that should favor Kansas.
"It's always important to establish a run game," KU coach Mark Mangino said. "I think it's a basis for offense, and it allows you to open up the pass game."
Cornish likely has All-Big 12 Conference honors locked up by now, having rushed for a league-best 1,130 yards this season. He's the first Jayhawk to rush for 1,000 yards in 10 years and may make a run at Tony Sands' school record of 1,442 yards.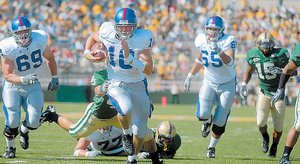 Though other backfield weapons occasionally pop up at Kansas - freshman Jake Sharp averages 6.1 yards per rush in limited action, and fullback Brandon McAnderson has five rushing touchdowns this season - Cornish's main partner in crime running the football has been Meier, a surprisingly quick quarterback for being 6-foot-3 and 210 pounds.
Meier has 297 yards rushing in six games - a number even more impressive considering his rushing total suffers from the 14 times he's been sacked this season.
Having to respect both usually leads to both having respectable games. Baylor, for one, had loads of problems with the Meier-Cornish combo. Before Meier was sidelined at the end of the third quarter with a shoulder injury, he had rushed for 62 yards on 12 carries. Cornish, meanwhile, finished with 196 yards on 24 rushes.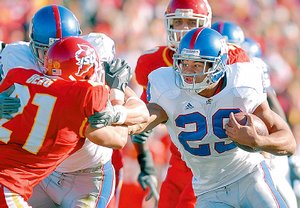 Meier's ability doesn't stop there. He had 70 yards rushing against Oklahoma State, 59 yards against Northwestern State and 57 against Toledo. He's been held under 30 yards only once in the six games he was healthy enough to play in.
Kansas State's rushing defense, meanwhile, ranks eighth in the Big 12, having allowed 134.0 yards per game and 12 touchdowns. Only Texas Tech, Oklahoma State, Iowa State and Baylor rank lower.
Both Cornish (17 carries, 89 yards) and Meier (14-19) were held under their average against Iowa State, a team with a porous defense at best. It proves that stopping the two can be done. But on paper, Kansas has a better chance at succeeding against Kansas State than it does failing in the ground-game department.
More like this story on KUsports.com