Brandon Rush, who scored 22 total points in a pair of exhibition games against NCAA Div. II competition, didn't come out looking for his shot in Kansas University's regular-season opener Saturday night.
Rush, the Jayhawks' first-team preseason All-American who had the ball in his hands on KU's first two possessions against Northern Arizona, elected, unselfishly, to get a certain teammate involved instead.
Rush fed junior big man Darnell Jackson first for an inside hoop, next a driving dunk down the lane, making sure the 6-foot-9, 250-pounder picked up where he left off during a solid exhibition campaign.
"I thought it was a good start for Darnell. It was a big confidence boost (for him). It led to the rest of the game him playing really well," Rush said after watching Jackson score 12 points and grab eight rebounds in the Jayhawks' 91-57 victory over the Lumberjacks in Allen Fieldhouse.
Jackson, who hit five of seven shots and two of three free throws in 22 minutes, pointed in the direction of Rush after each of his game-opening hoops.
"It didn't help my confidence. I think it helped the whole team when Brandon threw the ball inside. It gave us a big boost, showed we came out ready to play," Jackson said.
Jackson - who averaged 14.5 points and 8.5 boards in the Jayhawks' exhibition season - said he wasn't trying to make a statement that he'd fare just as well in games that count in the standings.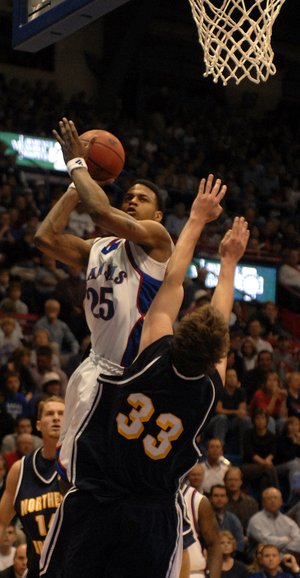 "It doesn't really matter how well I played," Jackson said. "The whole team played well together. If the guards didn't give me the ball, I couldn't score down low. We got some shots down low thanks to the guards."
Jackson said he wasn't focused on how many points he scored.
"It doesn't matter. If it comes, it comes, if it doesn't it doesn't," he said of his offense. "If it doesn't, I play to my principles and play defense."
Rush finished with four assists in 27 minutes. He hit nine of 14 shots, including two of three threes, as well as one of two free throws. He also played strong defense on Northern Arizona sharpshooter Steve Sir, who had nine points off 3-of-5 three-point shooting in 26 minutes.
"When Brandon plays like that, we're a totally different team," coach Bill Self said. "He definitely was into it."
Rush said in film sessions on Thursday and Friday, it was stressed to him he'd better bring his A-game on defense.
"Coach showed us how he (Sir) led the nation in three point shooting percentage last year," Rush said. "It was a real different experience for me to be able to guard a three-point shooter like that."
Self gave Rush passing grades for his work on Sir.
"He did a good job not letting him get off shots. Two to three times he didn't guard him as well as he could," Self said. "All in all he did a good job on him (Sir). I think our team defense was pretty good."
KU next will meet Oral Roberts at 7 p.m. Wednesday in Allen Fieldhouse. Coach Scott Sutton's Golden Eagles fell to Loyola Marymount, 68-65, on Friday in the season opener for both teams. Guard Ken Tutt provided most of the ORU offense with 26 points off 10-of-21 shooting. He hit three of 11 threes.