While driving along a deserted stretch of North Dakota road, Kansas University head coach Bonnie Henrickson told assistant Katie O'Connor to pull the car to the side of the road.
"Why do we have to slow down?" O'Connor said. "There's nobody else on the road. We haven't passed another car."
Then, as Henrickson, a native of small-town Willmar, Minn., predicted, cows passed in front of the car to graze in the more nourishing grass.
Such an incident typified the KU staff's recruiting trip to watch Rebecca Feickert, a 6-foot-2 forward/center from Goodrich, N.D. Her town of 150 people has three paved streets, no stoplights and no policeman. (Goodrich borrows its law enforcement from the neighboring town of McClusky.) Feickert's father drills water wells, and her mother works for the postal service.
"It's your typical small town," Feickert said. "Everybody knows everybody. Everybody's related to everybody."
Her high school had only 15 people and two in her graduating class. Grades 7-12 had 27 people, and three grades lacked any students. Goodrich co-opted with McClusky to form the Sheridan County Coyotes sports teams.
All those small numbers didn't keep Feickert from posting big ones on the basketball court. The 2006 North Dakota Miss Basketball stood out, averaging 22 points, 15.5 rebounds, 4.3 blocks, 3.7 assists and 3.6 steals as a senior.
After her junior year, Feickert's high school coach, Brent Hintz, sent a tape to several universities, including Kansas. The video displayed her footwork and long-range shooting ability, which allowed her to nail 44 threes at a 50 percent clip.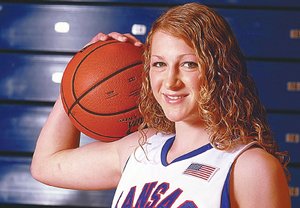 Although Feickert needs to develop her back-to-the-basket game, the freshman likely will serve as a backup post player for the Jayhawks who can stretch the floor with her shooting ability.
"She shoots the ball from three probably as well as anyone on behalf of the program," Henrickson said. "Until she gains some physical strength, she's going to get beat up inside."
However, she has flexed her brawn in the classroom. An accounting/Spanish double major, Feickert wants to attend law school, and graduate school could come sooner rather than later. With 49 credits, she will be between a sophomore and junior academically by semester's end.
During high school Feickert, a 4.0 student and 2006 All-State academic team member, earned 26 college credits. As a senior she took only two non-college level classes.
To cut costs and because the town had so few students, her school - like many others in North Dakota - used iTV, an interactive television program. Feickert would sit in the same classroom, which featured a television and microphone, all morning while taking several different classes. Teachers from Minot State University-Bottineau and Lake Region State College would instruct as many as four different groups of students at a time and converse through the microphones.
"They're so sensitive that if someone's cracking their gum at another site," Feickert said, "you can see and hear them."
Feickert displays the smarts and drive for success, gleaned from the classroom, on the basketball court.
"She is very bright in terms of once we explain to her why we do things a certain way," O'Connor said. "She will try to outwork people to prepare herself."
But her self-assured independence can backfire. During early season practices, Henrickson wanted the team to meet on the third floor of Allen Fieldhouse for a jogging relay, but no one could find Feickert.
Feickert had journeyed by herself to the second floor.
"Becca's one of those kids that always had to figure out where to go on her own," O'Connor said. "She thought she knew where she was going. So she just took off. We told her the whole story about the strength of the wolf is the pack."
Feickert's transition to Lawrence has included other life changes. Although she misses her family, she enjoys the KU campus, the basketball tradition, her teammates and coaches and the "basketball crazy" school spirit.
"I like the town that I was from," Feickert said. "But I didn't really feel like I was incapable of going to a bigger town or a bigger school."
Goodrich offered the unique appeal of a small town. When O'Connor and Henrickson stopped at a local supply store, the workers invited them to a corn dinner.
"In terms of being friendly and accepting," O'Connor said, "they were very, very nice."
While strangers from Lawrence have yet to offer Feickert a sit-down meal, she has experienced a pleasant form of interaction in the KU classrooms.
"It's nice to have a teacher in the room again," Feickert said.
More like this story on KUsports.com