The Kansas University volleyball team wore red jerseys instead of white. The Jayhawks ate a catered pregame meal instead of going to a restaurant. KU coach Ray Bechard even showed his team a highlight video of its best plays.
But none of those variations to the routine changed the result as KU lost, 3-0, Wednesday night to Colorado University in Horejsi Family Athletics Center. An opponent swept KU for the third consecutive match, and the loss served as the Jayhawks' sixth in a row.
"I'm very disappointed," said senior Jana Correa, who had 10 kills and a team-high 11 digs. "We fought so hard through the whole game."
The Game-Three loss was particularly excruciating. Facing early 12-6 and 16-10 deficits, KU bounced back to tie the score at 17 following seven straight points. Late in the game, the Jayhawks took a 28-23 lead. Colorado then rallied to tie it at 30 before winning, 32-30.
"You've got to find a way to get two points," said Emily Brown, who led KU with 12 kills.
Bechard called his two timeouts early in the final game to halt Colorado's momentum. By gathering his team so early, however, he could not make late-game substitutions or adjustments.
"Against a good team, you can't spot them eight or nine points," Bechard said. "Then the volleyball gods come into control, and you get a bad bounce."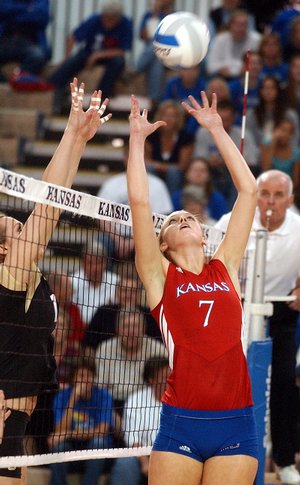 The Jayhawks (10-15 overall, 3-13 Big 12) recorded slow starts during each match, a flaw that has reared its head throughout the season.
"You'd like to be the first to 10 or 15 once in a while," Bechard said. "It seems like we were rallying in the middle games and then coming up a little bit short."
In Game One, KU trailed 20-13 at one point but scored eight in a row to make it a 26-23 game before the Buffaloes (14-9, 10-6) pulled out the 30-25 win. In Game Two, the Jayhawks trailed 15-9 before a six-point run paced by Correa's ace tied the score at 15. Colorado won the game 30-28, scoring the winning point on Isadora Rangel's serving error.
"She feels badly about that last serve in Game Two," Bechard said. "But that's the first time she's been in that situation."
The freshman outside hitter, who had one kill and two digs, played extensively in the first two games after seeing action in only eight previous matches this season. Her increase in game action occurred as Kansas implemented a 6-2 scheme, which called for two setters instead of its usual 5-1 system to improve its sideout percentage.
"That gave her an opportunity," Bechard said. "Her stat sheet doesn't look great, but I thought she held her own and did a nice job."
Rangel and the rest of the Jayhawks will not play again until Nov. 15 at Baylor. Bechard said he would give the team days off Saturday and Saturday. That respite could fuel a late-season rebound.
"Coach said a lot lately that the harder we try, the worse it gets," Brown said. "It's a perfect opportunity for a long weekend to get our legs back."
More like this story on KUsports.com