Who needs three-point goals?
Not Kansas University's women's basketball team. Not in Sunday afternoon's 68-62 come-from-behind exhibition victory over Washburn University in Allen Fieldhouse.
"I can't remember the last time," KU coach Bonnie Henrickson said, when asked if she had ever won a game without her players notching at least one three-pointer.
The Jayhawks attempted only four treys, but who needs three-point goals when you have a buzzsaw on the bench?
Freshmen reserves LaChelda Jacobs, Kelly Kohn and Danielle McCray fueled the second-half defensive pressure that brought the Jayhawks back from holes of as many as nine points.
"We're not going to beat anybody without defensive energy," Henrickson said.
That energy didn't manifest until about 12 minutes remained.
"We said, 'We're down, we're down and we need to step this up,'" said McCray who finished with 13 points and dive boards. "'This is a Division Two school.'"
Yes the Lady Blues are D-II, but they're also one of the best second-division teams in the country. In fact, they played like a Division One team during the first half when they carved a 29-24 advantage.
But the Jayhawks' depth proved decisive. Kansas went on a 14-1 run while forcing five turnovers and pressuring Washburn to miss nine shots in a row during a fateful five-minute span that turned a 44-36 deficit into a 50-45 lead.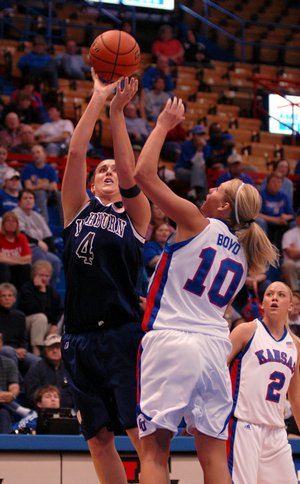 "Subbing in and out, we wore them down," said Shaquina Mosley, who contributed eight points, six assists and a pair of steals. "Anybody on our bench can produce."
Henrickson used only four players off the bench, and their numbers were noteworthy. The four subs scored 45 points and grabbed 20 rebounds. The starters had 23 points and 11 boards.
Meanwhile, Washburn coach Ron McHenry was reluctant to go to his reserves, using mostly just six players, and he regretted it later.
"We've got some kids on the bench who are going to have to play for us," McHenry said. "We got tired and their quickness bothered us."
KU's Marija Zinic proved bothersome, too. Washburn had trouble handling the 6-foot-2 sophomore inside.
Zinic didn't start, but she came in after two minutes, played the rest of the way and led KU with 15 points and seven rebounds. More impressive, Zinic was never in foul trouble, unlike last year when, as Henrickson said, "She'd foul somebody subbing in."
Only one whistle was directed at Zinic during her 38-minute stint.
"Last year I never played longer than 30 minutes," Zinic said. "I'm trying to be more on balance this year and not get stupid fouls. This was really great for me."
Jacobs, a 5-10 forward from Mansfield, Texas, made the most noise defensively with four steals to go with 10 points. Kansas forced 26 turnovers, turning the gaffes into 15 points, all but two of those in the second half.
"In the first half, instead of converting turnovers," Henrickson said, "we turned turnovers into turnovers."
For whatever reason, the Jayhawks were a different team after the break. They took 28 shots in each half, but made only nine in the first 20 minutes and 15 after intermission.
"I think we were too ready," McCray said. "We knew (Washburn) had beaten us two years ago, and we didn't want that to happen again."
Added Zinic: "We were kind of sleepy. We just needed to focus."
The Jayhawks can begin to focus for real next weekend when they will participate in the WBCA Classic at Municipal Auditorium in Kansas City, Mo.
More like this story on KUsports.com