The Kansas University swimming and diving team set up its first competitive home meet to prepare itself for a championship meet format - preliminaries and finals - in a two-day meet against Northern Iowa.
The only thing KU needs to do now after day one in Robinson Natatorium is use the experience. The Jayhawks have swept all eight events thus far.
"It's a very different order of events than we normally do, and some of the kids didn't know really what we were talking about at the beginning of the week," KU coach Clark Campbell said. "But they're really getting into it, so we had some really good swims to start off the meet.
"Swimming is kind of like a boxing match and a marathon. You have to take the boxing match just like a round, taking it round by round, and (today) is the second round and we have to be just as strong in the second round as we were in the first."
KU's 200 medley relay team started off the meet with a nearly 10-second margin of victory over UNI's first squad. Of course, it helps when each leg is swum by someone who won her individual event.
The Jayhawks' Lauren Bonfe was the starting leg of the team and eventual winner of the 100 backstroke.
"I think it was a pretty solid 'B' performance for me," Bonfe said. "I'm just really excited for the Maryland Invite that's coming up. I wanted to get some good times going so I'll be seeded well at the meet."
Bonfe was followed by Danielle Herrmann, who won the 200 individual medley, then 100 butterfly winner Ashley Leidigh and Maria Mayrovich - first-place finisher in the 100 freestyle - anchored the team.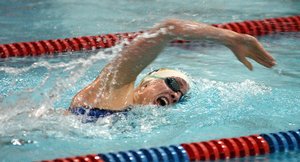 Despite facing off with a Missouri Valley Conference team, the squad was still able to focus on racing the clock, co-captain Jenny Short said.
"When you go up against a team that are at a little lesser level than you, it's kind of hard to swim your best times, and you kind of slow down at times," said Short, who finished just behind Bonfe in the backstroke. "We really did a good job of swimming up to our own level and swimming against each other and against our times. We had a lot of best season times, and it was a good success."
Bonfe said the strong night put forth by the Jayhawks was largely because of the "chemistry between the team and the crowd" that nearly filled the bleachers.
"We had so much enthusiasm in the crowd," Short said. "They were up there clapping and cheering, and you don't get that all some times at meets. And I think just because it is one of the few home meets we have this year, we have a lot of enthusiasm, and it was exciting."
¢ City swimmer showcase: Former Free State High swimmer Ashley Robinson made her KU home debut against an opposing school, having already swum in the Intrasquad event on Oct. 6.
"It was fun. It wasn't the first time (at home) just because we had the intrasquad meet here, so it wasn't like I had first time jitters or nervous or anything," Robinson said. "It was just fun to see a lot of people come out and watch, so it was a good time."
Robinson - who was the runner up at state last year in the 100-yard butterfly and 500-yard freestyle - finished third in her only event of the evening, the 500 freestyle. Her time of 5:04.49 put her behind teammates Terri Schramka (4:59.01) and Lia Pogioli (5:00.12).
More like this story on KUsports.com