A hero at Humboldt High, Brad Witherspoon had offers to play college basketball.
Small-college basketball.
"I could have went juco, I could have went D-II to play, but I was like, 'No, I'm going to come to KU. No questions asked,'" said Witherspoon, who recently survived walk-on tryouts and is a nonscholarship junior guard on KU's 2006-07 team.
"Everyone thought I was just an idiot. They just didn't understand. ... I thought I could make it, and I was going to prove to everybody that I could do it. It took me three years and I finally did it. So it's just overwhelming."
Witherspoon had already caught the eye of the coaching staff during his workout a year ago and put together another strong case to join the team.
"We were impressed with Brad last year during tryouts," KU coach Bill Self said. "Our coaching staff thought he had a very good tryout (this year). I wanted to personally be able to watch him play and must admit that I was very impressed with his attitude, effort and knowledge of the game."
Despite being worn down, Witherspoon was able to accomplish his original goal going into the hour-and-a-half tryout.
"I won every sprint, which was the main thing I was trying to do because I know they're not looking for scorers, they're not looking for people who can dunk the ball and stuff like that," the 6-1, 180-pound, guard said. "They need people that can play defense and will push guys as hard as they can go. So that's what I did. I tried to win every sprint - did everything perfect. If you watched, I hardly shot the ball at all except for the one-on-one drills we did. That was the stuff I was trying to do and get their attention by doing that."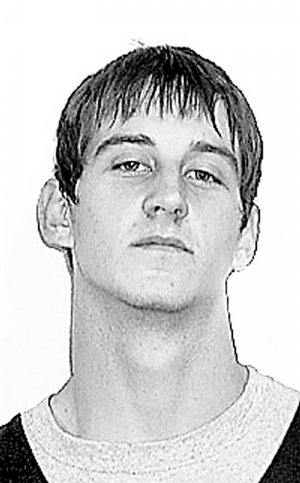 The setup of the phone call from assistant coach Tim Jankovich to inform Witherspoon of their decision also appeared to be like a Hollywood-style scene.
"He said they would call by Tuesday night, so I wasn't really expecting it Monday morning," Witherspoon said. "I got out of class early and he was like 'Well, what are you doing out of class?' I was like 'We got out early.' And he said, 'I've got your class schedule here, you don't get out of class until 9:50.' And I was just like 'We got out early! Cut me some slack here!'
"And he just said 'Well, hey man, I just wanted to call you and congratulate you. I mean, you did an awesome job ... and we think you can be that guy to come in on our team and give us the intensity we need in practice.' And I just didn't know what to say after that. I felt like I was floating. I was walking up the hill - felt like I was floating up the hill."
Witherspoon's love for KU began when his brother attended the university in the mid-90s and he made his first trip to see the Jayhawks in action.
"I came to my first KU game when (Greg) Ostertag and all those guys were playing," the Humboldt native said. "I ended up falling asleep on the bench. But it was just so loud, and as you got older you watch the Jayhawks growing up, and to me it's the only school in the state."
He already was connected with KU as his mother received her Masters degree from Kansas. His mother was actually the first to hear from Witherspoon, and she apparently has already been flooded with congratulations.
"My mom has gotten e-mails from people she doesn't know, she's gotten phone calls asking for my number," Witherspoon said. "She said she's more overwhelmed then I am because she doesn't know what to do - should she give my number out and stuff like that."
While his mother takes on the job of secretary for her son's newly aquired fame, Witherspoon's job already has him working hard - which he is understandably already liking.
"I'm trying to learn all the offenses, I'm trying to pick up all the drills," Witherspoon said. "But the more you're in there the more you're looking around like 'I'm in here with all these guys, wearing the same stuff that they're wearing and being with coach Self in Allen Fieldhouse.' And it's hard to focus, but you've got to get in your head that, 'I'm here to learn. I'm not here to just have fun and enjoy it.' But that's what I'm doing anyway."
More like this story on KUsports.com